At a glance
Expert's Rating
Pros
Unparalleled earbud audio quality
Wide soundstage
Unforgettable design
Cons
No active noise cancellation
Mic quality is not great for phone calls
Our Verdict
Forget noise cancellation, multipoint connections, and those annoying phone calls; just focus on how great the music sounds through these incredible earbuds.
Price When Reviewed
$249.00
Best Prices Today: Campfire Audio Orbit
$249.00
When Campfire Audio designed its Orbit earbuds, the headphone company didn't veer from the solitary path it has blazed in a crowded personal audio market. These in-ear monitors sound incredible, look weird, and aren't engineered to tick all the boxes the competition's marketing departments have deemed critical to success.
What you get with the Orbit are earbuds that sound far more expensive than they are, but include none of the active noise cancellation, extensive customization, or high-quality phone call features you'd expect at their price. These are designed for listening to music, full stop.
This review is part of TechHive's in-depth coverage of the best headphones.
Campfire Audio makes some of the most highly regarded and expensive wired earphones on the market. They're known for their aggressively funky design sense as well as a playful sense of themselves as a lifestyle brand. My Orbits came with a pack of baseball-style trading cards highlighting the other models in the line.
The Orbits cost 60 percent less than Campfire Audio's $649 Holocene wired earphones, which are the only other model in the line that costs less than $1K. That makes them a true outlier in their lineup, but also a model that must live up to the incredibly high audiophile standards that Campfire has established.
Maybe the Orbits were conceived as an engineering and design challenge, as in "Can we deliver earphones that are up to our audio standards for a competitive price?" The answer is a resounding yes, but buyers must understand that Campfire isn't playing the same game as Apple, Sony, or Bose and that the Orbits aren't designed to compete with the flagship models from those brands.
Campfire Audio
That's going to be a tough concept for some people to accept, and the reviews for these earphones reflect that confusion. I'll start by saying the Campfire Audio Orbit wireless earphones deliver a far superior listening experience than the Apple AirPods Pro 2, the Google Pixel Buds Pro, and the Sony Sony WF-1000XM4 wireless earbuds. The only wireless pair I've reviewed that come close are the Astell&Kern AK UW100 earphones, another high-performance in-ear headphone that's met with a mixed reaction from some quarters.
The real question here is what do you want from a pair of earbuds. Let's dig into what the Campfire Audio Orbit earphones do and—don't do—to help you decide if they're for you.
Campfire Audio Orbit design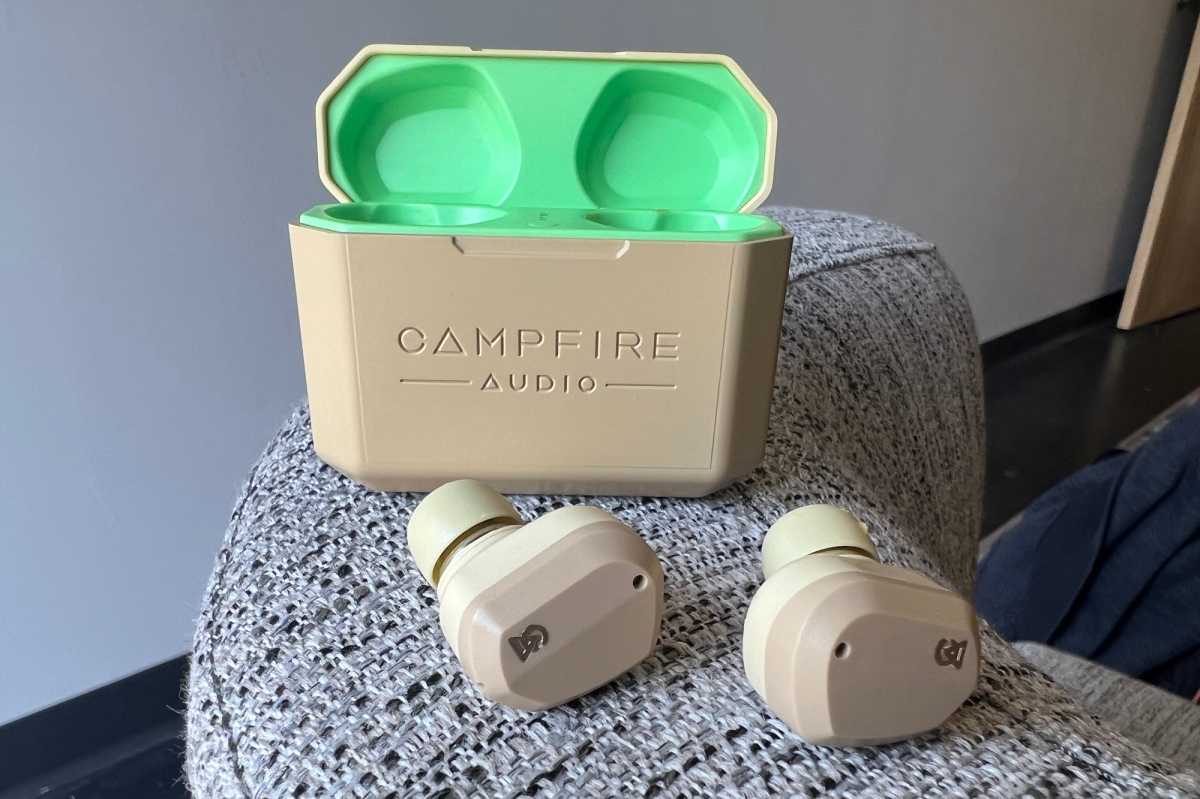 Campfire Audio
Campfire Audio Orbit earbuds and their charging case are contrasting shades of sand. The base of the case and the touch surface of each earphone is a slightly darker color than the lid of the case and the inner part of the earbud. Those outside colors are just a setup for the shocking lime sherbet on the inside of the case. None of these colors exist anywhere else in the wireless earphone universe, and you'll either find them charming or offensively weird. Put me down for team charming.
The case and each earbud is incredibly light. Campfire Audio doesn't give the exact weight on their website, but each earphone is lighter than an AirPod Pro, and the earphones plus case are significantly lighter than the AirPods Pro 2 with their case. They're rated at IPX5, so they can survive a sweaty workout, but their lack of active noise cancellation will discourage most users from using them that way.
Battery life is excellent, with 8.5 hours in the earphones at 80 percent volume and an additional 30 hours from a fully charged case. Of course, part of that performance is gained because these earphones are not constantly listening to your surroundings to drive the processors that create active noise cancellation.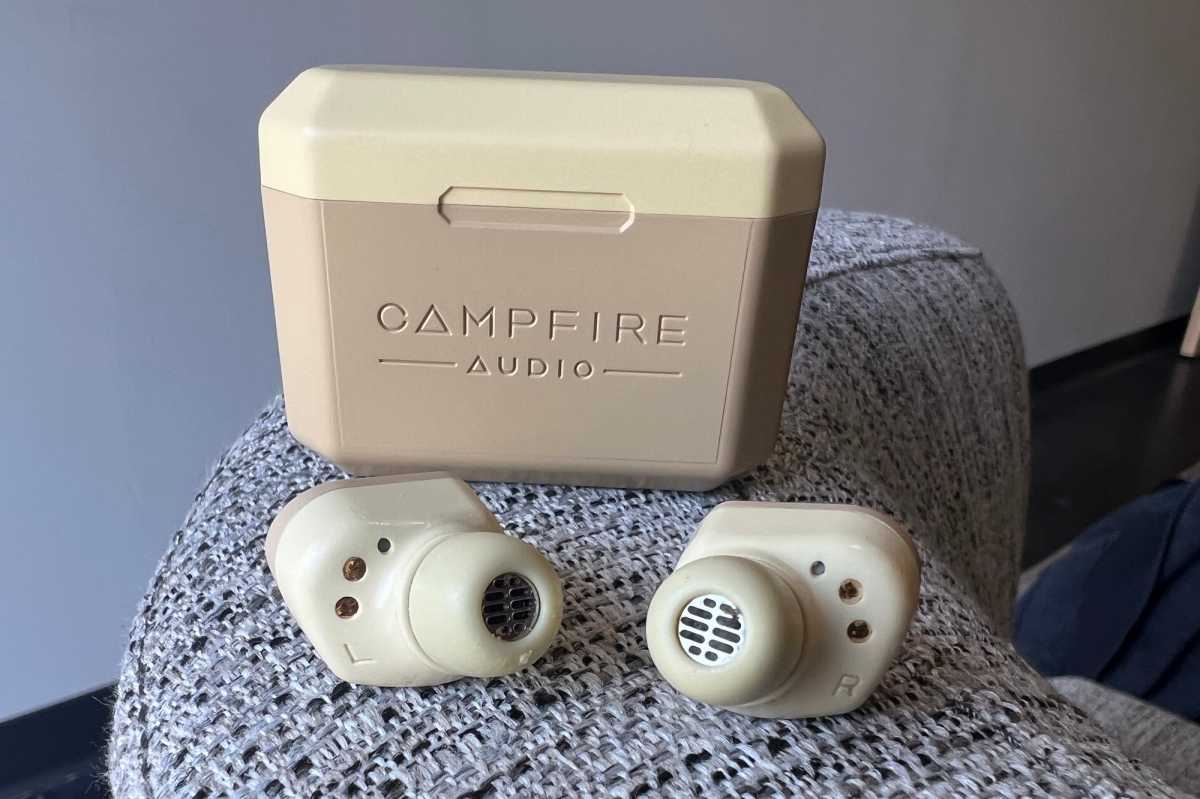 Campfire Audio
The Campfire Audio Orbit come with three sizes of silicone tips that are the same sand color as the case lid; plus, three sizes of foam tips. The foam tips give better passive noise isolation, but I prefer the silicone tips since the foam ones aren't really a substitute for ANC. There's also a USB-C charging cable, although the case also supports Qi wireless charging.
The packaging itself is an intricately designed series of folding paper compartments that's as visually arresting as the earphones themselves. You also get the previously mentioned trading cards and an enamel Campfire Audio lapel pin. These folks understand how to make you feel like you're being initiated into a club.
Campfire Audio Orbit audio quality
The Campfire Audio Orbit earphones use 10mm dynamic drivers and liquid crystal polymer (LCP) diaphragms. They have a 5Hz – 20 kHz frequency response and connect via Bluetooth 5.2. They support the SBC, AAC, and aptX codecs.
Note that the list of codecs doesn't include any of the high-res variety that are such a huge part of the marketing pitch for other wireless headphones, especially ones aimed at Android users whose phones are also marketed with an emphasis on those codecs.
Campfire Audio
I'm fully on board with the idea that the design and construction of the actual speakers in a pair of wireless headphones is the single most important factor in how they sound. We're not too many years away from true high-resolution wireless audio, but the current codecs are often more a drain on the battery than an actual factor in producing the best-quality wireless sound.
These Campfire Audio Orbit earphones sound better than any other brand I've tried that touts its support for LDAC, aptX HD or other state-of-the-art codecs. Could Campfire have included support for those codecs? I imagine if they did, they would have likely significantly increased the price and lowered the battery life for the Orbit earphones. And I'm almost certain they wouldn't have sounded any better with the upgraded specs.
The Campfire Audio Orbit earphones deliver an impressively wide soundstage. Classic rock albums like Pink Floyd's Dark Side of the Moon or David Bowie's Young Americans have the kind of spacious feel that would usually require a great open back over-ear headphone like the Sennheiser HD 660S2.
You're not going to get the maximum low end that trap and electronic fans might prefer, but that doesn't mean the rumble isn't there; it's just that Campfire Audio hasn't sacrificed performance in the mids and highs to top out in that zone.
Using the Campfire Audio app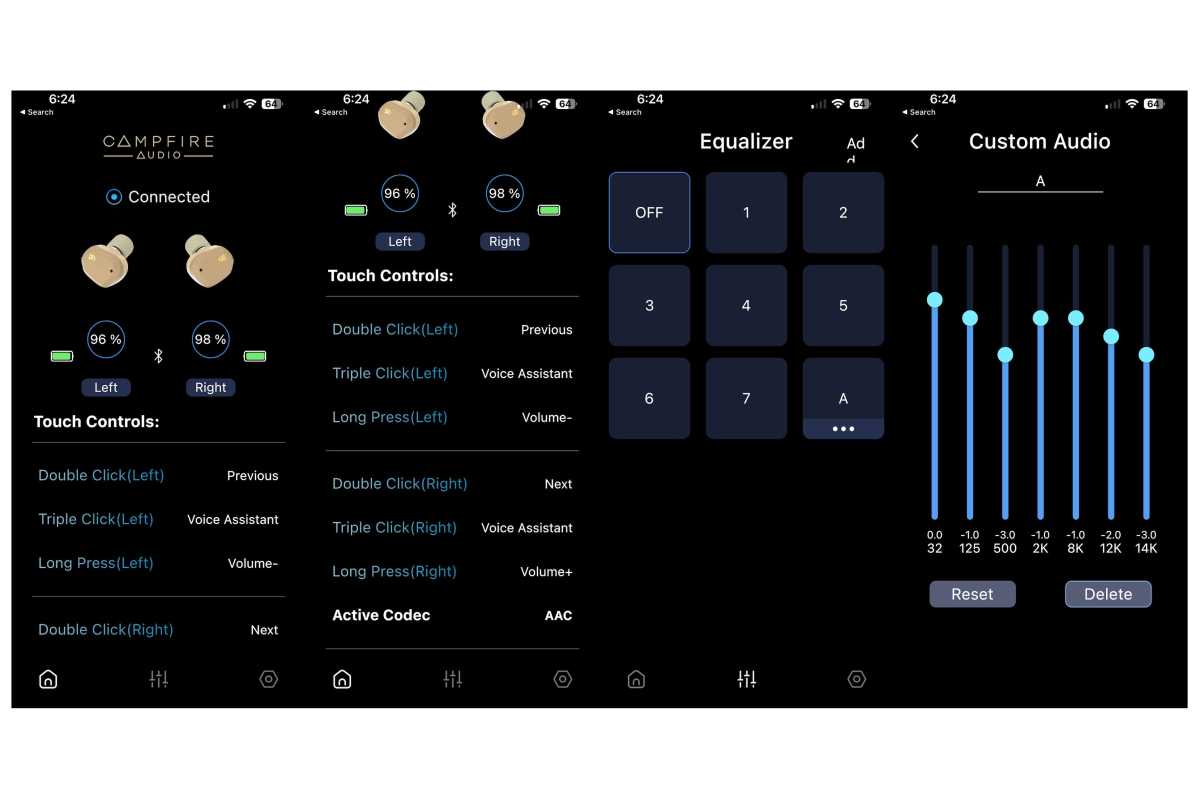 Campfire Audio
The main reason you need the Campfire Audio app for iOS or Android is for future firmware updates. Apart from that, you can see the battery level for each earphone, check which codec is active, and disable touch controls.
There's also an Equalizer panel that offers equalizer presets labeled 1 through 7 without even a passing attempt at describing what tuning each one might be trying to present. There's also a button labeled "A" that pulls up a 7-band custom equalizer. I played around with the unnamed EQ settings and quickly concluded that the none of the alternate choices sounded better than the Orbits did with the "off" setting.
What you don't get with the Campfire Audio Orbit
As I mentioned early on, there's no active noise cancellation here. You can only connect to one audio source at a time, and the microphone quality for phone calls doesn't match what you'd expect at this price.
We've reached a point where all these settings have been deemed must-haves by the marketing teams that are trying to sell wireless headphones and in-ear monitors. While all those settings are useful and even necessary in some use cases, Campfire Audio has taken the position that not every Bluetooth wireless earphone must be the same.
Should you buy the Campfire Audio Orbit wireless earphones?
These are earbuds for listeners who are looking for the best possible audio. Delivering this kind of listening experience at a reasonable price requires a tradeoff, and Campfire Audio has jettisoned all the features that don't directly impact how the music sounds.
Don't buy a pair of Campfire Orbits to wear at the gym or to listen to music during your commute. They're not designed to deliver the best experience in those scenarios. If that's your use case, invest in something with good ANC (here are our top picks in noise-cancelling headphones), but understand the audio from such headphones won't be quite as immersive as what you'd experience in a quiet environment with the Orbits.
Campfire Audio Orbit wireless earphones are designed for music listening, and they sound incredible; in fact, they're comparable to the experience I've been having with the $800 Focal Bathys (my editor expressed a very high opinion of those over-ear wireless headphones in his earlier Focal Bathys review). It's hard to fathom how the Orbits can sound this good at this price.
Source link