At a glance
Expert's Rating
Pros
No cloud service required (or available)
Solid video quality, day or night
Very long power cable included
Cons
Wi-Fi didn't work with my mesh network
App isn't entirely intuitive
Our Verdict
Defender's no-nonsense, no-cloud approach to cameras gets a pan/tilt/zoom upgrade in the Guard Pro 2K Wi-Fi, but users with mesh Wi-Fi routers may encounter some issues.
Price When Reviewed
$140
Best Prices Today: Defender Guard Pro PTZ 2K Security Camera
Defender is best known for its line of traditional DVR-style security cameras, but lately it's been entering the DIY market with a series of effective, if utilitarian cameras suitable for consumer users.
Its latest offering is the Defender Guard Pro 2K Wi-Fi, which adds PTZ (pan, tilt, and zoom) features to the mix. The cam handles its PTZ duties well, and there's no paid cloud service to deal with, but as you'll see, we ran into serious Wi-Fi problems.
This review is part of TechHive's in-depth coverage of the best home security cameras.
How big is the Defender Guard Pro 2K Wi-Fi?
The camera maintains the no-nonsense appearance of its forebears, taking the form of a traditional dome, about 5 inches in each dimension, that's designed to be mounted on a ceiling or wall. It can also be used upside down on a tabletop with minimal need for settings changes (besides flipping the image). 
Rated with IP66 weather resistance, the unit offers total protection from dust incursion along with protection against strong jets of water, which means the Defender Guard Pro 2K Wi-Fi can be freely used outdoors. The 35 feet of included power cable can help with long runs to a standard electrical outlet.
The unit includes two positionable antennas, but a curious design quirk will likely see them extending in front of the camera lens at times, as the antennas do not rotate with the motor. This can interfere slightly with the image, though it's probably a minimal inconvenience.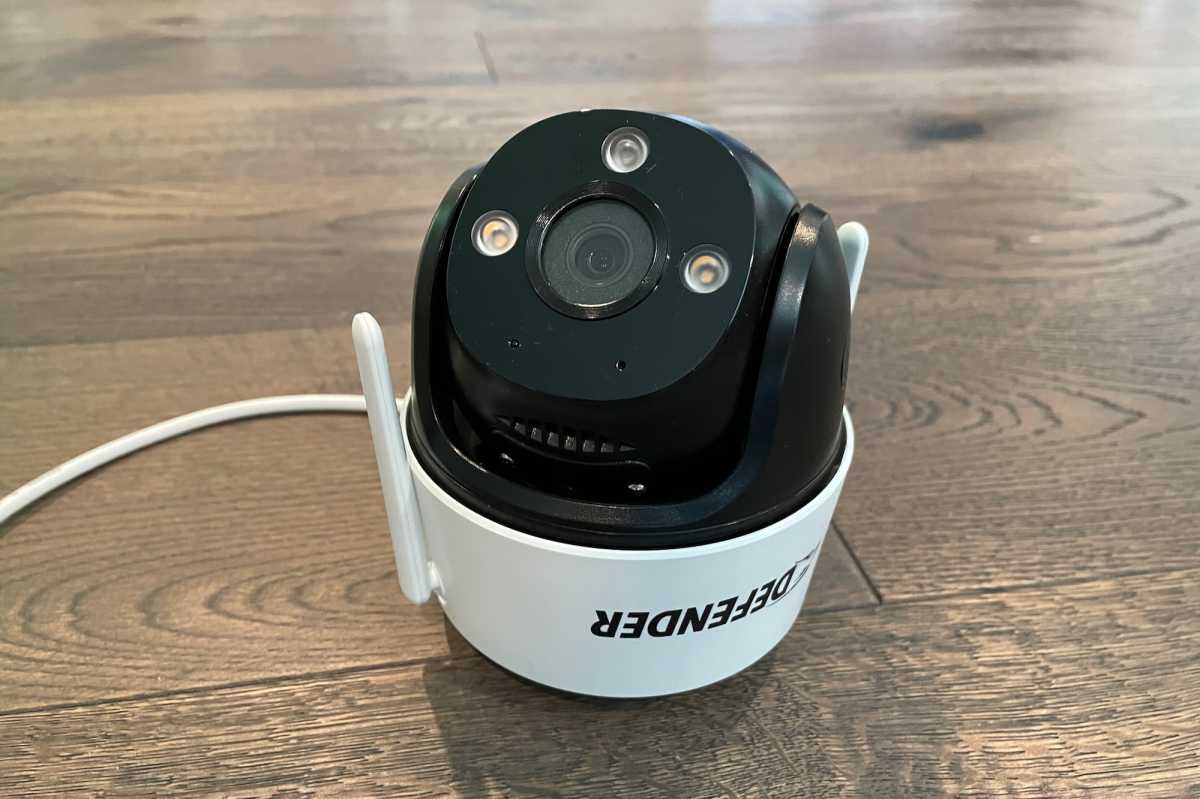 Christopher Null/Foundry
The camera sensor captures a maximum resolution of 2560 x 1440 pixels at 25 frames per second.
With a mere 94 degree (diagonal) viewing angle, images and videos do not appear at all distorted or misshapen, though the field of view is a little narrow.
Does the Defender Guard Pro 2K Wi-Fi offer local storage?
As with other Defender cameras, all storage is done locally; Defender doesn't even offer a cloud service, for better or worse.
A 32GB microSD card comes preinstalled, with 256GB the max supported.
Does the Defender Guard Pro 2K Wi-Fi support Wi-Fi and ethernet?
The camera's power cable includes a split-off pigtail that provides access to an ethernet port.
That ethernet port turned out to be a good thing, because I couldn't get the 2.4GHz Wi-Fi radio to connect to my home network at all. After some troubleshooting, the Wi-Fi issues were clearly due to the camera attempting to connect to a dual-band mesh network that uses the same SSID for both 2.4 and 5GHz networks.
This has long been an Achilles' heel for smart home gear, but it's not a problem I've encountered in more than a year, as even low-end Wi-Fi radios have become more sophisticated in that time. For the Defender camera to exhibit this problem in 2023 is a real surprise, and I ended up having to test the camera entirely via an ethernet hookup.
How do you set up the Defender Guard Pro 2K Wi-Fi?
Setup involves scanning a QR code on the bottom of the device and stepping through some basic configuration details.
In addition to the Wi-Fi hiccup, I also encountered a problem with receiving the emailed confirmation code for my account. This took over half an hour to arrive, to the point where I finally gave up and used a secondary email address, which received the confirmation code more expediently.
How is the Defender Guard Pro 2K Wi-Fi's video quality?
In regular use, I found video quality to be solid though a little washed out color-wise. Night vision is effective, if a little dim, in both IR and when illuminated by the three integrated spotlights (totaling 160 lumens). Defender's claims that the Guard Pro 2K Wi-Fi provides nearly 100 feet of night-vision range proved to be a stretch during my testing. 
I didn't initially love working with the Defender Guard app, but after spending a few days with it I was better able to navigate the various settings menus, including detection options (all motion, humans, and automatic tracking), notifications, and the various spotlight/night vision settings. A siren and two-way audio are also available and easy to turn on and off.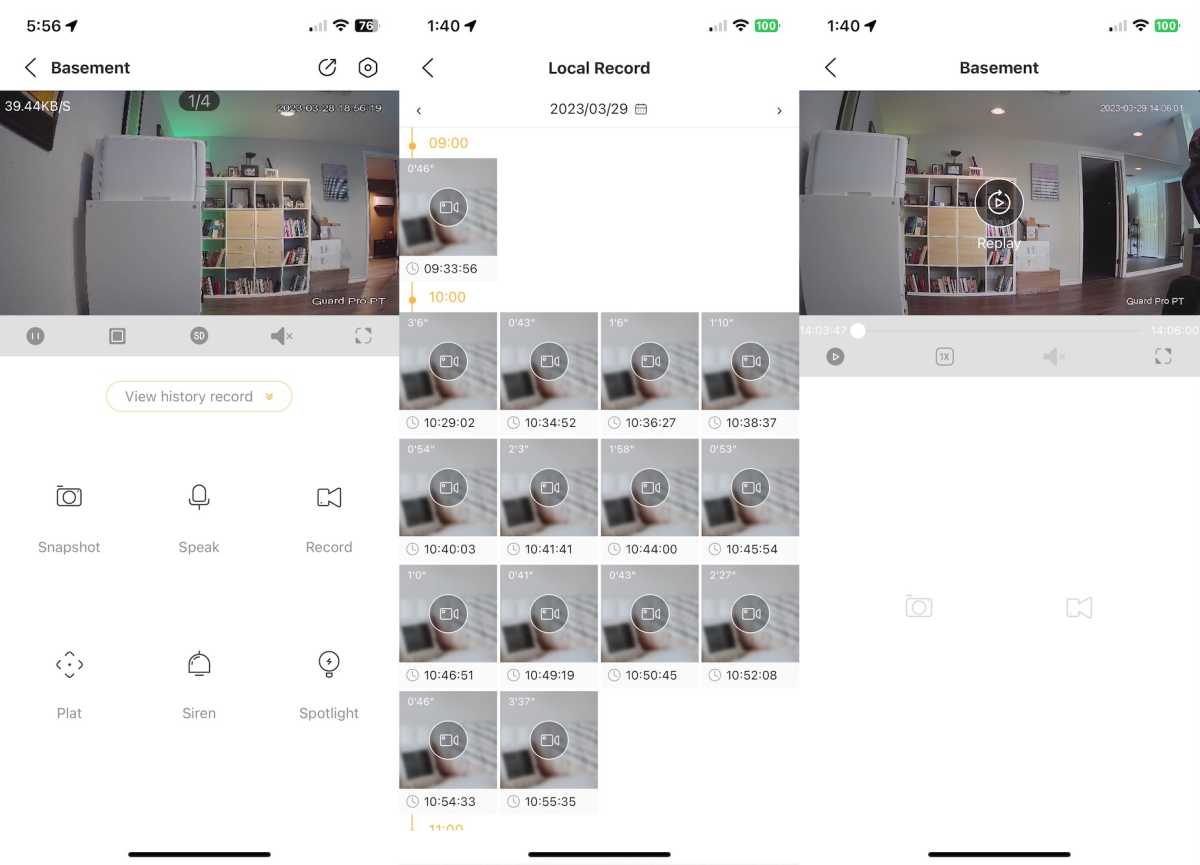 Christopher Null/Foundry
I ultimately found most of these features to work well, though responses to pan/tilt commands tend to be quite slow, and motion tracking can sometimes get confused if things are moving quickly.
Playing back stored video clips can be done in two ways. The first is through a timeline-based "History Record" view, where you simply scrub backwards in time to find sections of the timeline with activity. The other can be found in a totally separate part of the app called "Local Record," which offers a grid of time-stamped clips separated by day.
Unfortunately, none of these clips include thumbnails, so you'll need to tap them one by one if you're looking for something specific. 
Clips are limited to half an hour in length (if motion is continuous), but the longest I found in my testing was about 4 minutes long. There does not appear to be any cooldown time between clips.
Is the Defender Guard Pro 2K Wi-Fi worth the cash?
PTZ camera prices vary widely, and at $140 Defender's lands rather high in the market against capable alternatives like those from Wyze and Blink. 
That said, PTZ offerings from Wyze, Blink, and the like tend to revolve around cloud services that cost extra, so apples to apples comparisons are difficult.
In the end, if you're dead set against paying extra for cloud storage–and provided you don't have a mesh Wi-Fi system–the Defender Guard Pro 2K Wi-Fi can make for a compelling option in the pan/tilt space.
Source link