Welcome to the car-hauling business world!
In the last blogs, we have seen fleet service, transportation business, and how to develop a taxi service app like Uber. Since the fleet service is a massive market, we could not cover everything in one blog.
Yes! Though the topic is similar, there are differences in it. So let's see what is new in the car-hauling business. This blog is a handbook that will help you understand the car hauling business. 
Everyone is behind the car hauling business in the current era because the car hauling market has opened up to new trends and benefits. From the outside,  starting a car hauling seems daunting. However, it is an exciting and lucrative journey. 
To understand the process of developing a car hauling business, I have gathered a step-by-step guide. A short outline that you can find in this blog is what car hauling businesses are, the reason why a car hauling business is profitable, and the cost to develop a car hauling business.
Let's get in!
What is a car-hauling business? 
A car hauling business is a transportation service that takes vehicles from one location to another. This business uses trucks or trailers to carry multiple small vehicles, cars, and bikes. Car hauling business partners with individuals, dealerships, auctions, and other businesses. 
This business involves additional work, including vehicle storage, vehicle detailing, and transportation logistics management. Car hauling business is the best option for entrepreneurs who have an interest in the transportation industry and have strong logistics and management skills. 
The Market View Of A Car Hauling Business
We can not believe it with word of mouth so I have collected a statistic to make you understand the market of a car hauling business. 
In 2020, the car hauling market in the USA was 4,500 and the revenue was $12 billion. According to a report from 2020, the total number of vehicles on the road was 2,246,00. 
The car carrier market has taken up to the high making the size US$ 857.49 million in 2021. A prediction is that the market revenue will grow at 2.7% from 2024 to 2029, reaching nearly US$1061.19 million. 
The numbers are evidence that the car hauling business has a lucrative future and the numbers will be growing. 
A Step By Step Guide To Start A Car Hauling Business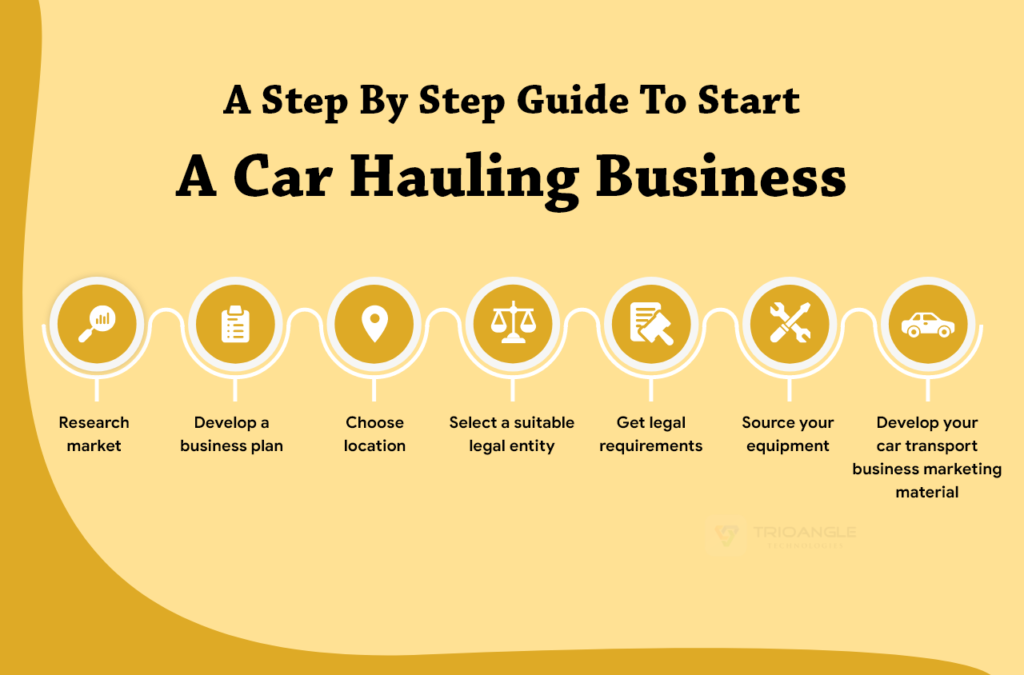 Research Market 
The best place to start your research is with your competitors. Surely, we can not go ahead without a proper plan.  Analyzing your competitor leads you to achieve the plan.
Do researches on
How much do they charge for a service?
What niche do they fulfil?
How much distance do they cover per day?
Where do they advertise and more?
If you find the correct answer to the question, you can get more insight into the market. And don't stay with the answers, delve into more until you have a clear idea. 
This step is important as it helps you choose what kind of transportation service you want. A lot of consideration is necessary when choosing a niche because you can avoid direct competition. 
After analyzing competitors, you need to choose vehicles, the number of employees, the revenue model, and more. 
Develop A Car-Hauling Business Plan
You need an accurate business plan before starting a car business. Because the plans give a path to go further in the business development process. The business plan includes an executive summary, company overview, industry analysis, customer analysis, competitive analysis, and more. 
Executive Summary – In a nutshell, you need to narrate everything to the audience so that they can understand the details of your car transportation business. 
Customer Analysis – In this section, you need to find who the audience is. Ask questions like how old are they, the location, and what they prefer when taking service from you
Industry Analysis – You find information related to the car hauling business. From start to end, gather every detail of your market. 
Financial Analysis – A good budget helps your business launch fastly. Make your financial plan wisely. Ask questions like how much the initial amount is to start, how your business makes money, and do you need funding to launch the business.  
Management Team – This section is for you to arrange your company management team. 
Choose a Location For Your Car-Hauling Business
You need to find a good place for your car hauling business. For that, you need to look at a few things when choosing the location. 
You need to look at factors like 
Whether the place is accessible to your customers or not
The place has enough space to park vehicles. 
Is this place safe
Entreprenuers can run their business only if they have a convenient place. You need to focus on an affordable location and space. 
Select a suitable legal entity
The next step is choosing a business structure. Five business models are being followed. Let's see the Top 5 Business To Be Started On the Mobility Platform.
Sole Proprietorship 
A sole proprietorship is a type of business that is owned and managed by a single individual. It is the simplest form of business organization, where the owner has complete control over the operations of the business. 
In a sole proprietorship, there is no legal distinction between the owner and the business entity. The owner is responsible for all the debts, obligations, and liabilities of the business.  
One of the main benefits of a sole proprietorship is that it is easy and cost-effective to launch
Partnerships
Many small businesses follow partnerships. If you want to start your car hauling business, a partnership is the best choice. The benefit of a partnership is that if you face debts, you can share them with your partner. 
Limited Liability Company (LLC)
A limited liability company business is typically used in this industry, as well as in many other industries. An LLC is a hybrid entity that joins the benefits of a partnership or sole proprietorship with those of a  corporation. 
Get Legal Requirements For Your Car-Hauling Business
If you're planning to launch a car hauling business, one of the first steps is to obtain a legal document from your local government. However, the specific requirements and regulations can vary depending on your location, so it's essential to do your research beforehand. 
To ensure that your business is properly legalized and compliant with all necessary laws and regulations, it's highly recommended that you seek the help of a lawyer who is familiar with the local rules and requirements.
In addition to obtaining the necessary legal documentation, you'll also need to contact your state's Department of Transportation to learn about any additional permits or regulations that may apply to your business. Depending on your state, there may be specific permits, licenses, or certifications required to operate a car hauling business. 
Source Your Car-Hauling Business Equipements 
Choosing the correct vehicle is important for your car-hauling business. So give it great consideration.
In this step, you need to choose what type of vehicle you want. After choosing the vehicle,  you need to choose many vehicles.
Better You start with a minimal vehicle than Instead of choosing a high number of vehicles. Once your firm starts seeing growth, you can widen your car-hauling business. 
You need smart equipment to monitor all the activity. For that, you need tracking software or transport management software. This technology helps you keep track of mileage and fuel tax to map routes. 
All of the other features help the firm owner track vehicles and keep all the details of vehicles. This software can save a lot of money and time.  If you want to know How To Entrepreneurs Do Your Own Business With Tow Trucking Scripts, read the blog. You will get more ideas about how to source equipment with software.
Develop Your Car Transport Business Marketing Material
Marketing is an important factor to grow your business and take your business to audiences. 
Logo: the first impression is the best so spend a lot of time developing a good logo. Your logo should tell audiences about your business. You are going to use it on visiting cards, vehicles, and more. Your logo can increase trust and awareness, so consider it. 
Website: most car transport businesses have an online presence through websites or mobile applications.  Online presence helps your audiences know more about your company, offers, and contact information.  A User-friendly website is important because when it is slow and not appealing, the audience may not visit your website again. 
Social Media Account:  to promote your business, you need third-party platforms like Facebook, Instagram, Twitter, and more. Social media marketing is a strong way to promote business. So make use of social media platforms. 
How Much Does A Car-Hauling Business Cost?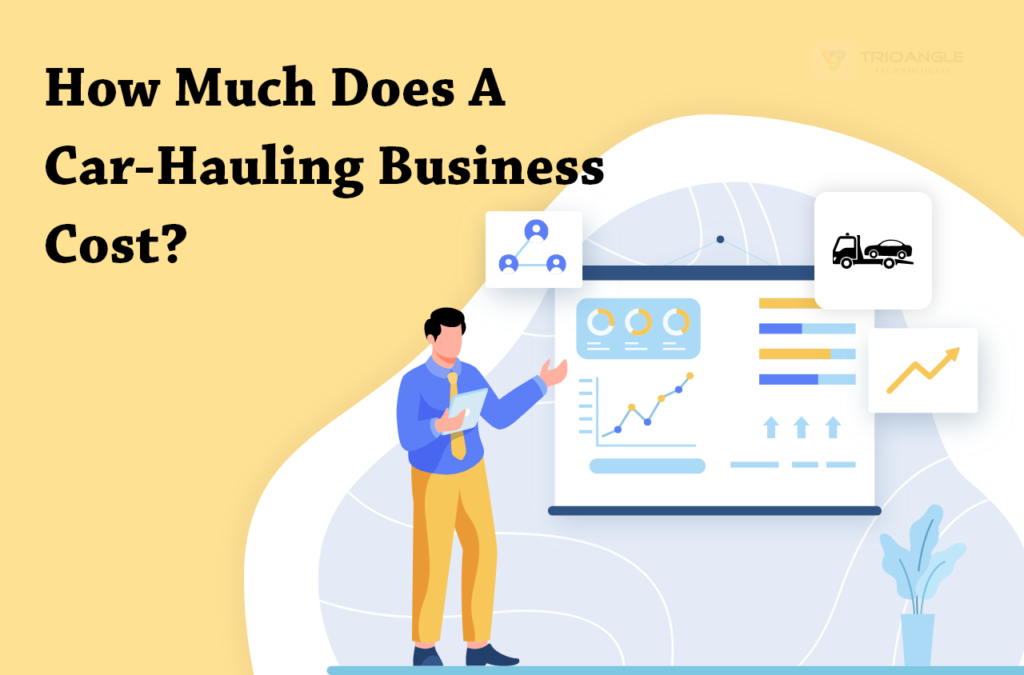 Most of the cost comes from the equipment. When you choose a second-hand vehicle, it may cost you between $3,000-$20,000. If you are choosing new trailers, it may come to around $15,000-$40,000. 
You need to pay about $ 100 for a license if you don't have one. Speaking of licenses, to get a license takes an amount, which may not take much cost. Licenses are also one factor that comes in the cost-effectiveness.
The size of the firm matters in cost-effectiveness. If you are starting a small car hauling business, the cost differs. It takes less than the large firm. 
Another cost factor is registering. If you are registering your business, you need to pay an amount which may take about $ 100 to $ 200. 
Maintenance and repair can not be predicted as it depends on the damage in the vehicles. Based on your firm strength and vehicles, the amount varies. Better to separate an amount around $1,000 to $2,000. 
You may be wondering how much it cost to develop an on-demand transport business,  the cost-effectiveness is not much different. As previously said, we can not assess the exact value. We have tried to cover it on that blog. 
Bonus Point 
You may have questions after seeing the steps and costs that can make your business more profitable if you start a car hauling business. I have gathered the information for you. Read the paragraph below. You will get a notion to make your business profitable.
How To Make Your Car Hauling Business More Profitable 
Most businesses face difficulty to scale up the business after the launch because the business can't run profitably. Maintenance is a more difficult task than starting. 
Three steps that will help your business run for a long time are getting GPS, creating a standard operating procedure, and investing in quality marketing material. 
Firstly, you need to get GPS software for your business. It may seem expensive, but it can drive your audience to your business easily. 
Next, To run the work in your car hauling business and make them more efficient, you need a standard operating procedure. 
"Quality is more important than quantity. One home run is much better than two doubles" – Steve Jobs. 
The third thing is quality. As the quote says, you need to give quality marketing material, including flyers, business cards, and websites. This helps your business drive more audience and it can grow your business. 
Bottom Line
Before starting a car hauling business, you need to look at what it is, the process to start, and cost-effectiveness.  You can find the above-mentioned things in this article. 
Hope the blog gives an insight into how to get into the car hauling business. If you want to start a car hauling business, you need a team, equipment, a clear business plan, and more. 
"A vision without a strategy remains an illusion"- Lee Bolman
A clear idea can take your business to the high. If you want to know more about how to start a car hauling, refer blog, everything you need to know about the towing business and get help from experts. 
If you're interested in learning further about the transportation industry, get in touch with us.
Source link