Appreciation for your thoughts to start a rental property business!
In recent years, investing in real estate has become an increasingly popular choice for entrepreneurs who are looking to generate a sustainable stream of passive income and create long-term wealth. 
One of the most lucrative ways to invest in real estate is through rental properties, which offer multiple revenue streams, such as monthly rental income and potential appreciation in property value over time. 
Moreover, owning rental properties allows you to build a diversified portfolio, which can help spread your risk and increase your potential returns. However, starting a rental property business can be daunting, especially for those new to the industry. 
That's why we've created this comprehensive guide to help you understand the crucial steps you need to take to start a successful rental property business. 
So, if you're ready to turn your real estate investing dreams into a profitable reality, keep reading!
What is Rental Property Business:
A rental property business is a type of real estate investment venture in which an investor purchases properties to generate rental income. 
These properties can be single-family homes, multi-unit buildings, or commercial properties leased out to tenants in exchange for monthly rental fees. 
The investor is responsible for managing the property, finding tenants, collecting rent, and maintaining the property's condition. Rental properties offer several potential income streams, such as monthly rent payments, appreciation in property value, and tax benefits. 
Starting a property rental business can be challenging, but it has the potential to generate a profitable source of income and a foundation for enduring financial prosperity. 
Market-View of Rental Property Business:
Here are some statistics related to the Real-estate rental business: 
According to The Business Research Company, The global real estate rental market experienced growth from $2,375.91 billion in 2022 to $2,561.84 billion in 2023 with a CAGR of 7.8%. Furthermore, the market is projected to grow to $3,388.85 billion in 2027,  with a CAGR of 7.2%.
As per The Business Research Company, In 2022, the Asia-Pacific region dominated the global real estate rental market as the largest region, with North America coming in second.
According to Zumper, The average rent for a one-bedroom apartment in the US was $1,194 in 2022.
According to a survey by Zillow, 41% of renters in the US are cost-burdened, meaning they spend more than 30% of their income on rent.
These statistics demonstrate the significant economic impact and the scope of property rental business.
Trends in Rental Property Industry: 
Here are the top five trends that are shaping the rental property industry today:
Rise of Short-Term Rentals 
The rise of short-term rentals, such as vacation rentals and corporate housing, has transformed the rental property industry. 
Rental property applications have made it easier for property owners to rent out their properties for short-term stays, and consumers have embraced the flexibility and convenience of these rental options. 
The short-term rental market is projected to continue growing in the coming years, creating new opportunities for property owners and investors alike. 
Smart Homes:
Smart home technology is another trend that is revolutionizing the rental property industry. Tenants are increasingly seeking rental properties with smart home features, such as smart thermostats, automated lighting, and security systems. 
These features not only enhance the tenant experience but also increase the value and desirability of rental properties for property owners. 
Sustainable Features: 
Sustainability is becoming an increasingly important factor in the rental property industry. Tenants are looking for rental properties with eco-friendly features, such as energy-efficient appliances, solar panels, and green roofs. 
Property owners who invest in sustainable features not only reduce their carbon footprint but also attract environmentally-conscious tenants and increase the value of their properties. 
Virtual Tours:
Virtual tours have become an essential tool for property managers and owners in the wake of the COVID-19 pandemic. With social distancing measures in place, tenants are increasingly seeking virtual tours of rental properties before making a decision. 
Property managers who invest in high-quality virtual tour technology can attract more tenants and streamline the rental process. 
Co-Living Spaces: 
Co-living spaces are another emerging trend in the rental property industry. These communal living spaces offer a cost-effective and social alternative to traditional rental properties.
Co-living spaces are particularly popular among millennials and young professionals, who value community and flexibility in their living arrangements.
Steps to Start a Rental Property Business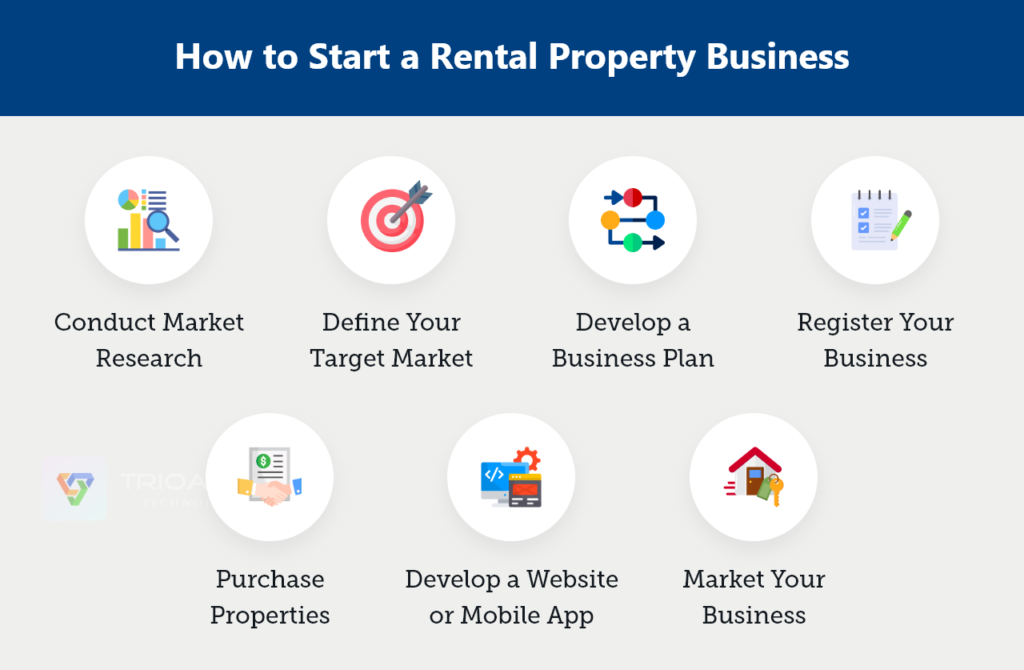 Starting a rental property business can be a profitable venture, but it requires careful planning and execution. Whether you're looking to invest in residential or commercial properties, here are basic steps to start an online property rental business:
Conduct Market Research
Before investing in any rental property, it's important to conduct thorough market research to identify opportunities and risks. 
Research the local rental market to determine demand, rental rates, and vacancy rates. You should also research the demographics of the area to identify your target market and tailor your rental properties and marketing efforts accordingly.
Market research will help you identify opportunities and risks, and make informed decisions about your business.
Define Your Target Market
After conducting market research, it's important to define your target market to ensure that your rental properties are attractive to potential renters. 
By understanding the demographics and preferences of your target market, you can select properties that meet their needs and create marketing strategies that effectively reach them. 
Your target market may include various groups such as young professionals, families, college students, or retirees, depending on the location and demand in your area. 
Taking the time to define your target market can help you make informed decisions about your rental properties and ultimately contribute to the success of your business.
Develop a Business Plan
A strong business plan is vital for a successful rental property business. It should outline your mission statement, target market, marketing strategies, financial projections, and potential risks. 
Financial projections are a crucial component, including costs associated with purchasing, renovating, and maintaining properties, as well as revenue streams and profit margins. 
It's important to research financing options, such as loans or investors, and determine the most feasible and cost-effective route. 
A comprehensive business plan helps you understand challenges and opportunities, create a roadmap for success, and secure financing and investors.
Register Your Business
Before investing in rental properties, it's crucial to register your business and obtain the necessary licenses and permits, which can vary based on your location and regulations. 
This involves choosing a business name, filing paperwork, and obtaining a tax identification number. You may also need to get licenses and permits, such as a rental property license or business license, based on the type of properties you plan to invest in. 
Researching specific regulations that apply to your area is essential. Additionally, forming a legal entity, such as an LLC, can protect your assets from potential liabilities. 
Registering your business and obtaining the necessary licenses and permits can ensure that your rental property business is legally operating and positioned for long-term success.
Purchase Properties
To commence your property investment journey, it is important to ensure that all legal and financial requirements have been met. Afterward, you can start exploring various properties that align with your investment objectives. 
When selecting properties, take into account various factors such as location, size, and condition to ensure that they fit your investment strategy. 
If required, you can engage the services of a reliable real estate agent or broker to assist you in identifying properties that meet your specific criteria.
Develop Your Rental Property Website or Mobile App
In today's rapidly evolving digital landscape, having a robust online presence is a must for any rental property business. 
A website or mobile app can be a powerful tool for showcasing your properties, streamlining rental applications, and improving overall tenant satisfaction. 
Creating a website or best property rental app for business highlights your properties can help attract potential renters and provide them with detailed information about each property. 
Additionally, providing a secure online platform for renters to pay rent and request maintenance can help simplify the rental process and improve tenant retention and recommend your rental business to others.
Market Your Rental Property Business
Marketing plays a critical role in the success of the rental property business. To attract potential renters, it's important to leverage various marketing channels such as social media, search engine optimization (SEO), and advertising to reach your target audience. 
In addition to digital marketing, you can also organize open houses, provide referral incentives, and offer move-in specials to attract renters. This can help increase your property's visibility and generate interest among potential renters. 
It's important to keep in mind that marketing is an ongoing process that requires consistent effort and experimentation to determine what works best for your business. 
By adopting a proactive marketing strategy, you can establish a strong brand presence, build trust with potential renters, and ultimately drive more business to your properties.
Challenges in Starting a Rental Property Start-Up
Entrepreneurs encounter various challenges when commencing a rental property business. The following are some of the common challenges and solutions to overcome them:
Finding the Right Properties: 
Finding suitable properties that meet your investment goals and attract tenants can be challenging. 
One solution is to work with a real estate agent or property management company that has expertise in the local rental market. 
They can help you identify properties that meet your criteria and negotiate favorable terms. 
Managing Tenants: 
Managing tenants can be challenging, particularly when it comes to rent collection, maintenance requests, and tenant disputes. 
One solution is to hire a property management company to handle these tasks on your behalf. 
They can provide professional tenant screening, handle maintenance and repairs, and resolve disputes promptly. 
Compliance With Regulations: 
Rental properties are subject to various regulations and laws, including building codes, zoning laws, and tenancy laws. 
To ensure compliance, you can work with a real estate attorney or property management company with expertise in local laws and regulations. 
They can help you navigate the process and avoid costly fines and penalties. 
Competition: 
The rental property market can be highly competitive, particularly in desirable locations. 
To differentiate yourself from other landlords and property managers, you can offer unique amenities and features that appeal to your target tenants. 
You can also focus on building a strong brand and marketing your properties effectively to reach your ideal audience.
Monetization Methods in Rental Property Business: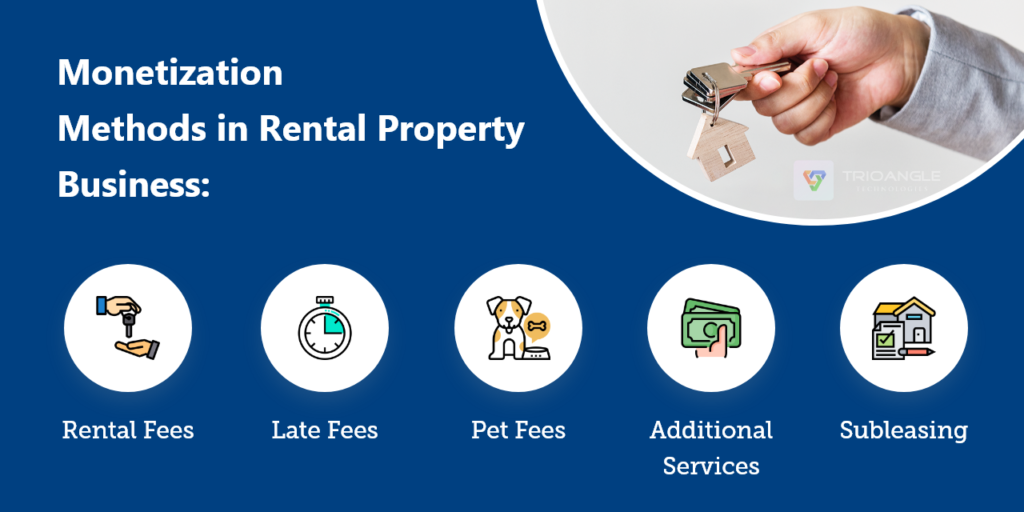 There are several ways to monetize a rental property business. Here are some of the most common methods:
Rental Fees: 
The most straightforward and obvious monetization method in the online property rental business is charging a monthly rental fee. 
The rental fee you charge should be based on various factors, such as the location, size, condition, and amenities of the property. You should also do some research to ensure that your rental fee is competitive in the market. 
Late Fees: 
Another way to monetize your rental property is by charging late fees to tenants who don't pay their rent on time. 
Late fees can be a percentage of the rental fee or a fixed amount. It's important to establish clear policies on late fees in your lease agreement, including the amount and when it will be charged. 
Pet Fees: 
Many rental property owners charge additional pet fees to tenants who have pets. 
These fees can help cover any additional costs associated with pets, such as cleaning or repairing any damages caused by pets. 
Like rental fees, pet fees should be based on market research and should be outlined in the lease agreement. 
Additional Services: 
One more way to monetize your rental property is by offering additional services to your tenants. 
For example, you could offer cleaning services, laundry services, or parking spaces for an additional fee. These services can provide added convenience to tenants and generate extra revenue for you. 
Subleasing: 
If your lease agreement allows it, you can also monetize your rental property by allowing subletting. 
Subleasing allows your tenants to rent out part of the property to someone else. You can charge your tenants a fee for subletting, which can help cover any additional costs or generate extra revenue for you. 
End Notes:
Starting a rental property business can be a challenging task. By following the steps outlined in this blog, you can build a solid foundation for your rental property business and enhance your chances of success. 
It's crucial to focus not only on generating profit but also on delivering exceptional customer service to your tenants. 
Launching a rental property business necessitates significant research and preparation, but with the appropriate mindset, resources, and support, you can transform your aspirations into a lucrative and thriving reality.
Source link