The Fire Max 11 represents Amazon's largest tablet display to date and features an upgraded aluminum body that enhances its premium aesthetics. Here's how the specs and performance compare to the ninth-generation iPad.
The Amazon Fire Max 11 and the ninth-generation iPad from Apple are two tablets that have made significant waves in the tech market. Both devices offer a blend of performance, design, and features that cater to a wide range of users, from casual consumers to professionals seeking a portable yet powerful device.
Amazon's Fire Max 11, unveiled on May 23, 2023, represents a new direction for the Fire tablet lineup. It is Amazon's largest and most powerful tablet to date, boasting an 11-inch display and an upgraded aluminum body that enhances its premium aesthetics.
The Fire Max 11 pushes the boundaries of screen size and incorporates several new features, making it more premium than its predecessors.
On the other hand, Apple's ninth-generation iPad, unveiled in September, 2021, continues the legacy of the iPad line with its familiar design and robust performance. It features an aluminum design and a 10.2-inch Retina display, maintaining Apple's commitment to quality and user experience.
Despite being an older device, the iPad 9 still holds its own in the tablet market, offering a reliable and seamless user experience that Apple users have come to expect.
Fire Max 11 versus iPad 9 – Specifications
Specifications
iPad 9th-gen
Fire Max 11
Price (starting)
$329.00
Best prices
$229.99
Buy on Amazon
Storage
64GB
256GB
64GB
128GB
Screen resolution (pixels)
2160 x 1620 at 264 ppi
2000 x 1200 at 213 ppi
Screen brightness (nits)
500
410
Screen size (inches)
10.2
11
Processor
A13 Bionic
MediaTek MT8188J
Dimensions (inches)
9.8 x 6.8 x 0.29
10.2 x 6.44 x 0.30
Weight (pounds)
1.07
1.08
Battery (hours)
Up to 10
Up to 14
Rear camera
8MP
8MP
Front camera
12MP
8MP
Connectivity
Wi-Fi 5, 4G LTE, Bluetooth 4.2
Wi-Fi 6, Bluetooth 5.3
Port
Lightning
USB-C
Biometrics
Touch ID
Fingerprint sensor
Colors
Silver, Space Gray
Gray
Fire Max 11 versus iPad 9 – Design
The Fire Max 11 has a more premium feel with its aluminum body than the previous plastic-bodied Amazon tablets. Likewise, the iPad is constructed using aluminum, the longstanding material for Apple's tablet devices.
Regarding dimensions, the Fire Max 11 has measurements of 10.2 inches by 6.44 inches by 0.30 inches, whereas the iPad 9 is slightly smaller at 9.8 inches by 6.8 inches with a comparable thickness of 0.29 inches. Both devices are nearly identical in terms of weight, with the iPad weighing 1.07 pounds and the Fire Max 11 at 1.08 pounds.
Owners of either device will find it convenient to store them compactly while traveling, as they occupy minimal space in a bag or luggage.
Fire Max 11 versus iPad 9 – Display
The Amazon Fire Max 11 has a larger 11-inch screen than the 10.2-inch Retina display on the 9th-generation iPad. The Fire Max 11 has a resolution of 2,000 by 1,200 and a pixel density of 213 pixels per inch, while the iPad sports a higher resolution of 2,160 by 1,620 pixels and a greater density of 264ppi.
The iPad also has a brighter display, capable of 500 nits of brightness, while the Fire Max 11 can manage 410 nits. A brighter display means that users can see content on the screen better when using the tablet outdoors.
Both devices share a common characteristic that aids in reducing the impact of blue light wavelengths. Scientific research suggests prolonged exposure to blue light can lead to eye strain or other vision-related issues.
Having a display certified for low blue light emission can benefit our eyes and sleep, mainly when using the device for extended periods. The Fire Max 11 holds a certification for low blue light, although Apple does not specify any specific certifications for the iPad.
Nonetheless, Apple offers Night Shift, which serves the same purpose. Night Shift utilizes the clock and geolocation functionalities of the iPad to determine the sunset time in your location.
As a result, it automatically adjusts the display colors to warmer tones during the evening and reverts to the regular settings in the morning.
Fire Max 11 versus iPad 9 – Processor
The iPad 9 is powered by the A13 Bionic chip with two high-performance and four high-efficiency cores. Meanwhile, the Fire Max 11 boasts an octa-core processor from MediaTek (MT8188J) with two Arm Cortex A78 and six Cortex A55 CPUs.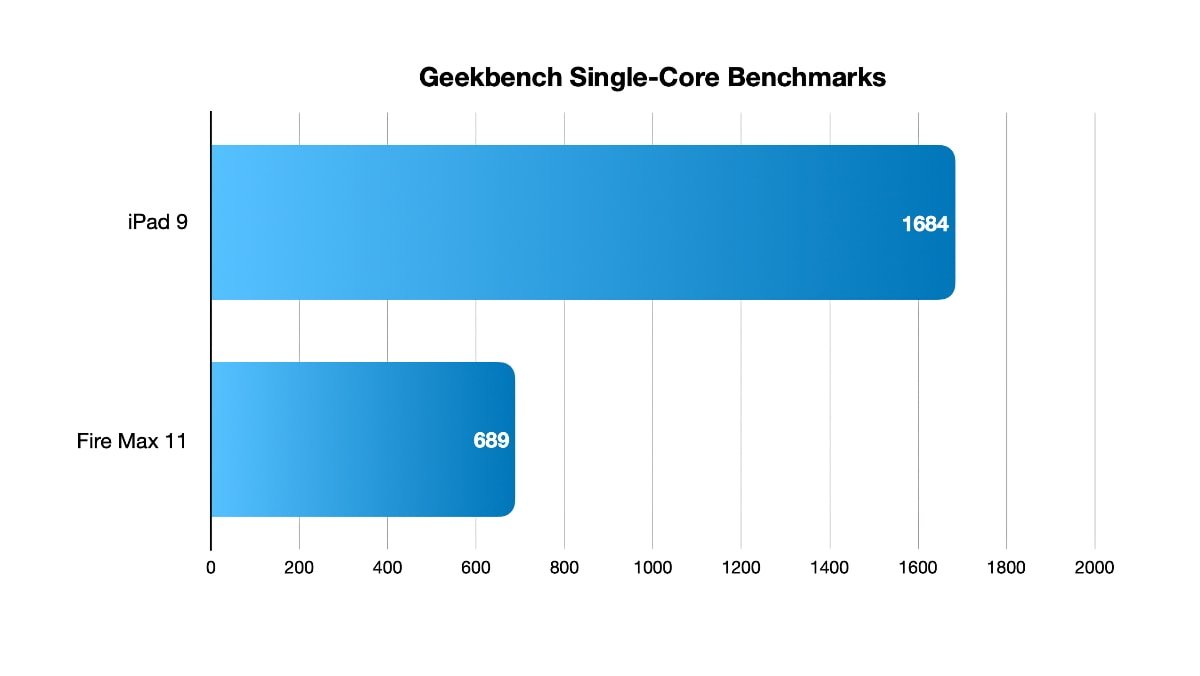 Geekbench lists benchmarks for the A13 Bionic in the iPad 9 at 1,684 in single-core performance and 3,684 for multi-core. On the other hand, the Fire Max 11 may have comparatively slower performance.
While the Geekbench listing does not mention the Fire Max 11 specifically, it does present a benchmark for the ARM MT8188JV/A chip, exhibiting a single-core performance score of 689 and a multi-core score of 1,975.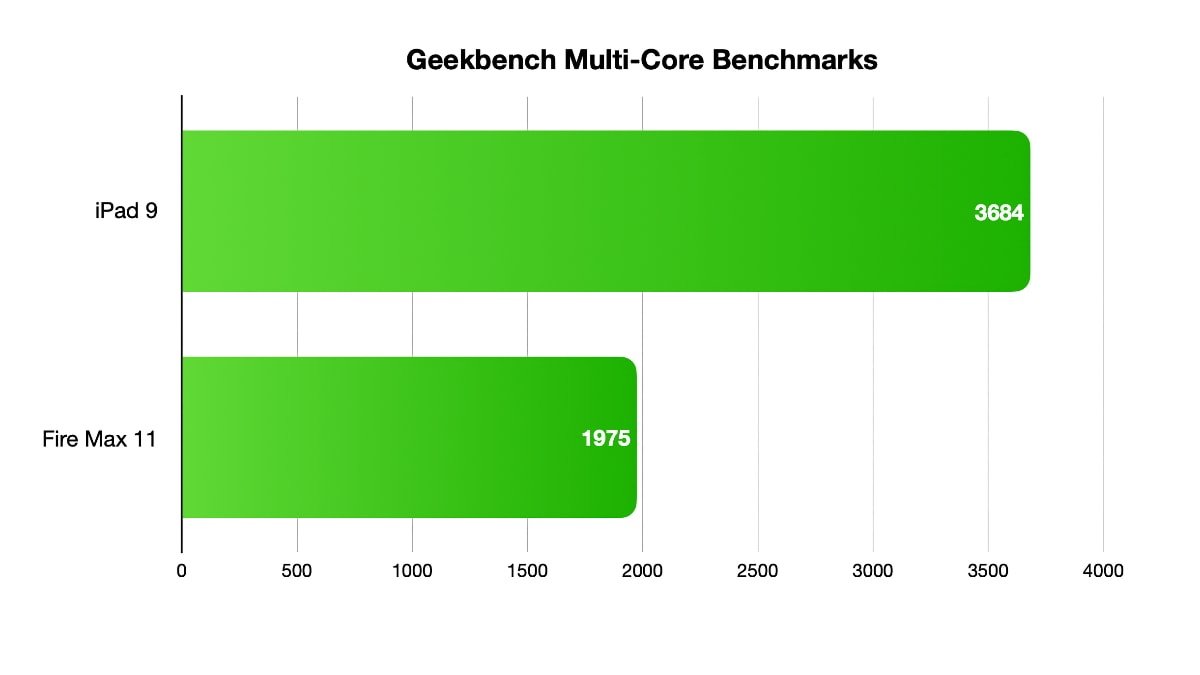 Despite being an older device, the iPad 9 significantly surpasses the Fire Max 11 in this particular aspect.
Fire Max 11 versus iPad 9 – Camera
The Fire Max 11 and the iPad both use an eight-megapixel rear camera sensor. The Fire Max 11 also has an eight-megapixel front camera sensor, but the iPad surpasses this with a 12-megapixel Ultra Wide front camera.
Both devices can record 1080p video. Furthermore, the iPad offers additional features such as 3x video zoom, support for slo-mo video recording at 720p and 120 frames-per-second, and 720p HD video recording at 30 fps.
The Fire Max 11 from Amazon also features a front camera on the side when used in landscape mode. This placement is advantageous for video calls, primarily when the tablet is utilized in landscape orientation alongside a keyboard.
However, the iPad 9 maintains the front camera's placement at the top when used in portrait mode, remaining consistent with previous models. This aspect could be a deciding factor or a deal-breaker for people seeking a tablet primarily for work purposes.
Fire Max 11 versus iPad 9 – Connectivity
Both tablets offer robust connectivity options, with the iPad 10.2 offering cellular connectivity in addition to Wi-Fi 5, while the Fire Max 11 offers the latest Wi-Fi 6 technology for faster and more reliable connections.
The Fire Max 11 also incorporates Bluetooth 5.3 technology, which enables seamless connectivity with A2DP-compatible stereo headphones, speakers, microphones, and LE accessories. In contrast, the iPad 9 has Bluetooth 4.2.
Bluetooth 5.3 offers enhanced speed, lower power consumption, and improved audio quality compared to Bluetooth 4.2. Nevertheless, Bluetooth 4.2 remains highly functional with devices still in active use.
Similarly, Wi-Fi 6 is better at handling a large volume of connected devices than Wi-Fi 5, providing better speeds, lower latency, and more efficient power usage. But upgrading to a router that can handle Wi-Fi 6 may be more expensive than using networking hardware that operates using Wi-Fi 5 and lower.
Fire Max 11 versus iPad 9 – Battery
Although the iPad 9 offers approximately 10 hours of battery life for web browsing and video playback on Wi-Fi, Amazon claims that the Fire Max 11 surpasses it by providing up to 14 hours of power for activities such as reading, web browsing, video watching, and music listening.
Furthermore, the Fire Max 11 can be fully charged in under 4.2 hours using the USB-C cable and 9W power adapter provided in the bundle. However, the iPad 9 surpasses this by reaching a full charge in approximately two hours and 45 minutes.
There is the potential on each device to achieve even faster charging speeds when used with chargers that have higher wattage.
Fire Max 11 versus iPad 9 – Other features
Both the Fire Max 11 and the iPad 9 incorporate a fingerprint sensor into their designs. The fingerprint sensor on the Amazon tablet is integrated into the power button, similar to specific newer iPad models.
On the other hand, the iPad 9 features the Touch ID/Home button positioned at the bottom front of the display.
Other features each tablet shares are support for keyboards and a stylus. The Fire Max 11 is compatible with a full-size magnetic keyboard and supports a stylus similar to the iPad 9.
However, it's worth noting that these accessories are not included in the package for either device and require a separate purchase.
Fire Max 11 versus iPad 9 – Color, Capacity, Price
The Fire Max 11 is exclusively offered in Gray, whereas the iPad 9 provides color options of Silver and Space Gray. Regarding storage configurations, the Fire Max 11 is available in 64GB and 128GB options, while the iPad offers 64GB and 256 GB.
In contrast to the iPad, the Fire Max 11 is equipped with a microSD slot that enables users to expand the storage capacity by up to 1TB. However, throughout its tablet lineup, Apple has consistently omitted the inclusion of a microSD slot, necessitating users to evaluate their storage requirements and consider utilizing iCloud as an alternative.
The base configuration of the iPad 9th Generation costs $329 and provides 64GB of storage and Wi-Fi connectivity. Choosing Wi-Fi + Cellular increases that to $459.
The 256GB configuration costs $479 for the Wi-Fi version and $609 to add cellular connectivity. The price is the same for each configuration to add accessories, including an Apple Pencil for $99 (on sale at Amazon) and a Smart Keyboard for $159 (check price).
The Amazon Fire Max 11 is more affordable at $229 with 64GB of storage, but that version forces advertisements onto the lock screen. Choosing the option to omit ads brings the price to $244.99.
Yet, there is a potential shift in this scenario with the introduction of the 128GB variant, which solely offers the choice of "Without Lockscreen Ads" for $279.99. Additionally, each model has various bundles available, including a keyboard, stylus, or both.
Fire Max 11 versus iPad 9 – What to Buy
When it comes to screen size, the Fire Max 11 offers an 11-inch display, which is larger than the iPad's 10.2-inch screen. This extra screen real estate can make a significant difference for users who frequently watch videos, read, or browse the web on their tablet.
While the iPad's display is certainly clear and vibrant, the larger display of the Fire Max 11 provides a more immersive viewing experience.
Storage flexibility is another area where the Fire Max 11 has an edge over the iPad. Unlike the iPad, which requires users to commit to a fixed amount of storage at the time of purchase, the Fire Max 11 features a microSD slot.
This allows users to expand storage up to 1TB, providing a level of flexibility that the iPad can't match without cloud storage.
In terms of connectivity, the Fire Max 11 supports the latest Wi-Fi 6 technology and Bluetooth 5.3, which can provide faster and more reliable connections than the iPad's Wi-Fi 5 and Bluetooth 4.2.
While the iPad's connectivity options are good enough for most users, the Fire Max 11's more advanced technology could be a deciding factor for users who require the fastest and most reliable connections possible.
Battery life is another key consideration when choosing a tablet. The iPad offers a respectable 10 hours of battery life, but the Fire Max 11 outperforms it by offering up to 14 hours of power.
The extended battery life could be a significant advantage for users who use their tablet extensively throughout the day or during long trips without access to a charger.
Finally, price is a crucial factor for many buyers. The Fire Max 11 is more affordable than the iPad, even when opting for the version without lockscreen ads.
Though the iPad offers a robust and reliable tablet experience, the Fire Max 11's lower price point makes it an attractive choice for those seeking a tablet with premium features but at a more budget-friendly price.
The iPad is a strong contender in the tablet market, but the Fire Max 11 offers several compelling advantages that could make it a more appealing choice for some users.
Where to Buy
Source link