---
If you've ever tried balancing your phone for FaceTime or video conferencing only to have it fall over, the STM Goods Magarm tries to be a solution to keep your laptop and phone at eye level for multitasking.
The STM Goods MagArm is a MagSafe-enabled phone mount that attaches to your laptop lid, placing your phone on the same viewing plane as your laptop.
This is a promising design, as it reduces clutter around our workspace. We no longer need to leave our phones face-up on our desks and can read notifications at eye level.
However, we were nervous about attaching the MagArm directly to our aluminum laptop lid when testing the product.
The STM Goods MagArm Portable Phone Mount would probably best be suited for those who don't need their Apple equipment to remain in perfect form.
This is because once anchored on, the item feels bulky, is difficult to detach, and leaves a slight residue on our laptop lid.
STM Goods MagArm Phone Mount design
While STM Goods promises a sturdy and slim design, we found the product didn't quite live up to expectations.
The item is made of ABS plastic, silicone, and a dual-sided tape suction cup that mounts the MagArm directly onto your laptop or laptop case.
It includes a hinge-and-twist suction attachment system and can be swiveled and locked into either portrait or landscape modes while attached to your computer.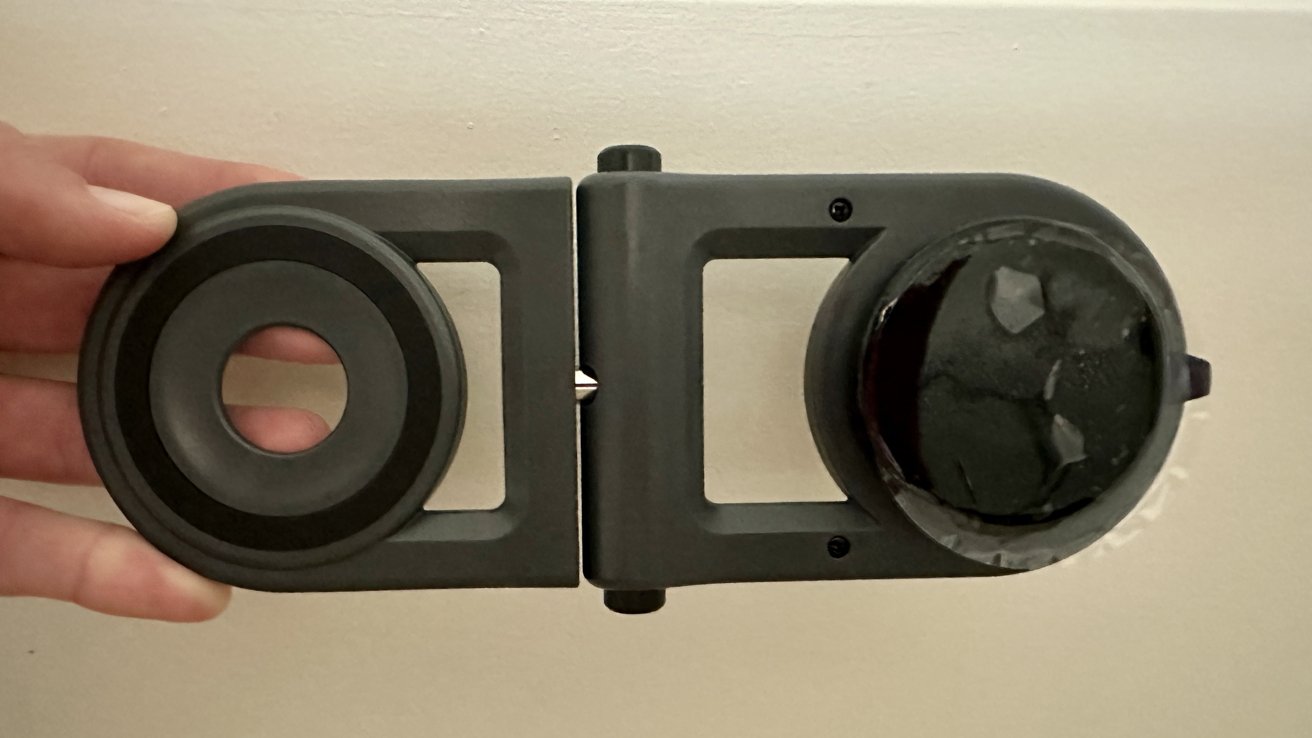 The MagArm magnetically connects to MagSafe-enabled iPhone models and cases. On its own, the MagArm is 0.3 pounds, 7.8 inches long, 3.2 inches wide, and 0.8 inches thick.
The MagArm is portable, but the sticky suction cup will pick up grime and dirt if not reattached to the plastic seal.
There is a recessed niche for an Apple MagSafe charging puck, allowing your phone to charge while suspended on the MagArm.
In addition, the item is equipped with a swivel hinge to provide your desired viewing angle, keeping the phone up and out of the way of your desktop.
Using the STM Goods MagArm Phone Mount
Smarter than Most Goods brands the MagArm as a solution to removing clutter from the workspace.
The accessory allows you to charge your phone while keeping it suspended and out of the way of your busy desktop.
There are two buttons in the middle of the extender arm that allow the arm to move.
This allows the user to view their phone in either portrait or landscape orientations. It makes the MagArm for group FaceTime calls or as an auxiliary screen for watching videos.
A recessed niche for an Apple MagSafe charging puck (not included) allows your phone to charge while suspended on MagArm.
When testing the product long-term, however, there were three main red flags.
First, the MagArm's plastic construction feels cheap and not conducive to a quality item.
This brings us to our second point. After anchoring the MagArm to our laptop with the suction cup, the MagArm immediately sagged under the weight of the iPhone.
In addition, the MagArm only seems suitable for portrait mode. In landscape mode, our laptop screen tips backward or forward.
Lastly, once anchored, the MagArm does not easily detach from the computer.
When the MagArm finally detached, it left a sticky residue on our laptop lid. This could be wiped off with a microfiber cloth, but it did not live up to STM's promise of detaching easily and residue-free.
The residue was left after we used the item for an hour. We imagine that after using the item for months, it could be even more difficult to remove and could leave a permanent residue.
Should you buy the STM Goods MagArm Phone Mount
If you are a multitasker and have many open tabs on your laptop at one time, we could see the desire for something external like MagArm to keep video calls separate.
We all know the struggle of propping up an iPhone during a FaceTime call, only for it to fall over. For this, an item like MagArm is indeed a neat concept.
However, the sagging, involuntary tilting of the screen, residue, and cheap-feeling plastic is too hard to ignore — especially for a price of $49.99.
We think that a sturdy wall or desk MagSafe phone mount would be more practical for our workspaces.
The concept is sound, and there is demand for such an item, but for $50, STM Goods should consider a few tweaks to create a more user-friendly MagArm.
Perhaps if the MagArm came with a built-in MagSafe charger, the price tag would make sense to us.
STM Goods MagArm Phone Mount — Pros
MagSafe charging puck compatible

Reduces clutter from your workspace

360-degree swivel for portrait or landscape modes

Easy FaceTime and video conferencing

Attaches to the side of your screen at eye level
STM Goods MagArm Phone Mount — Cons
Plastic feels cheap

Sticky residue

MagArm sags under weight of iPhone

Pricey for what you get
Rating: 2.5 out of 5
Where to buy
The STM Goods MagArm can be purchased directly from the STM Goods site for $49.99. It is also available on Amazon for a retail price of $49.95.
Source link