---


AppleInsider may earn an affiliate commission on purchases made through links on our site.

You can turn off your Apple Watch telling you to stand, or purchase a standing desk to mitigate the awfulness of remaining sedentary at work — or you can get FlexiSpot's Sit2Go 2-in-1 fitness chair.
Here at AppleInsider, we're always looking for ways to have our cake and eat it, too — meaning — hit deadlines while burning calories in the process. We're not talking about burning basal metabolic rate calories, the ones expended at rest to keep us alive. Here, we're talking about movement calories worked off while sitting on the Sit2Go chair.
Sit, move, and get your work done: it feels like an unattainable dream, not a reality. Usually, we'd be skeptical of a workout chair like this. However, after using it religiously for one week, the Sit2Go does take the cake.
And we'll eat the cake, too, because we can. After all, the dessert will be burned off by the end of the workday.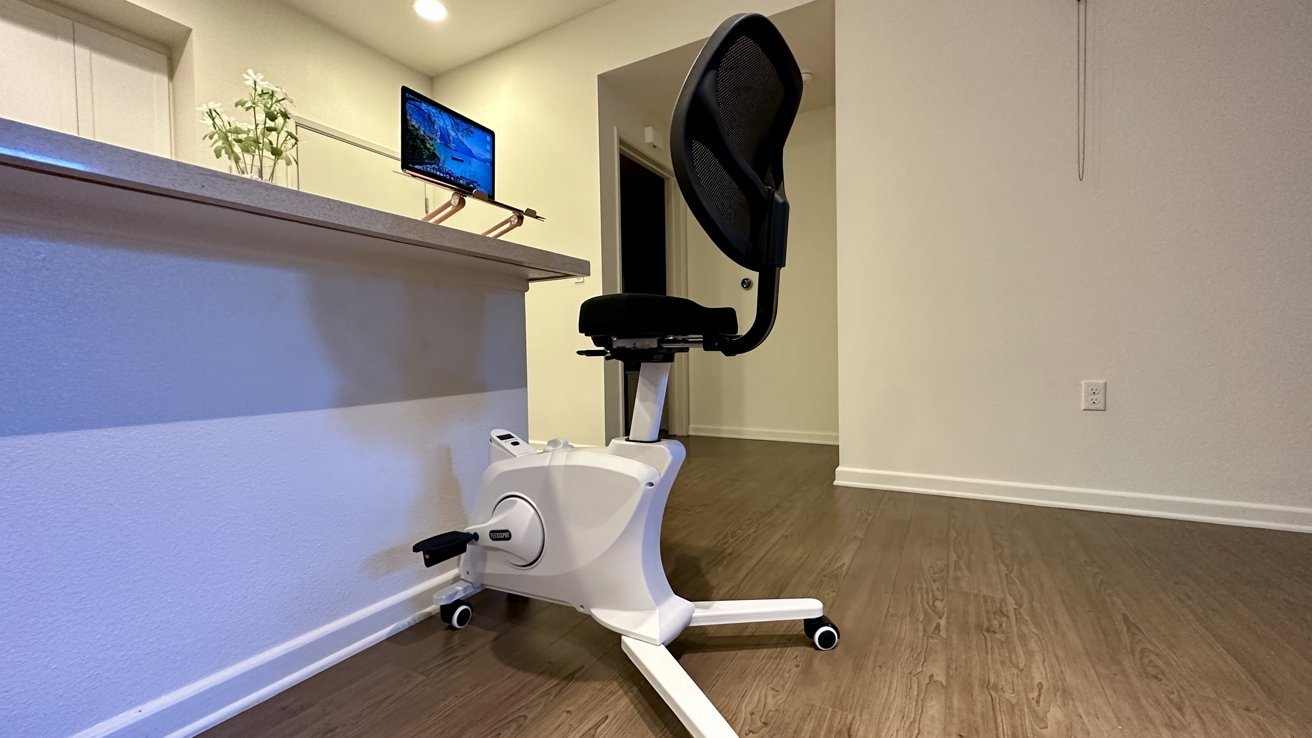 Sure, your button-down shirt might be a bit sweaty, and your legs won't whir as fast while you type away compared to your dedicated Peloton class, but this chair works — especially on days you're too busy to get to the gym.
If you're wondering "why not buy a standing desk," standing desks, themselves, won't do much good in the movement department.
They don't actually burn that many extra calories compared to sitting. Studies have shown that the expenditure is about two extra calories every fifteen minutes.
Standing desks remind us of being fifteen again, working at the ice creamery for eight hours in those heinous non-slip shoes, feet screaming when Mom finally picked us up.
We've also tried editing on our iPad while walking on the treadmill. Unfortunately, clumsiness often wins out, and we throw in the towel before working up a sweat.
The Sit2Go chair allows the user to burn extra calories while comfortably seated, keeping blood circulating without the uncomfortable pins-and-needles side effect of blood pooling in the feet — like with standing desks.
When you're looking to improve your health, Apple's got it right. To hit your stand goal, you must stand, and most importantly, move.
Moving is precisely what the user will do when they whir away on the Sit2Go chair.
Health benefit-wise, users can expect improved circulation, better posture, extra calorie burn, and the option to improve stamina with a nifty (+/-) resistance toggle that mirrors those of exercise-dedicated bikes.
The Sit2Go is mobile and does not need to be plugged into a wall. If you have wood flooring or something similar, its wheels glide effortlessly and soundlessly without leaving scratch marks.
Once the user takes a seat, however, the chair locks into place.
To run the time, speed, distance, calorie, odometer, and RPM monitor located in line with your calves, simply pop in two AA batteries.
The mesh backing is also a win. It allows for ample airflow to assist your body's natural cooling system while you're pedaling away.
The chair padding is just right. After three hours, the user will still feel comfortable and supported.
After setting up the bike, you might be thinking that it looks slightly absurd. However, as the adage goes that we should not judge a book by its cover; we should not judge the Sit2Go solely by appearance, either.
We were impressed both by how comfortable and quiet the bike is — even at its highest resistance.
If you work at home next to a light-sleeper fur baby, human baby, or perhaps a tetchy coworker that never tires of telling you to keep it down, rest assured that there is absolutely zero cranking or popping while you're aboard the Sit2Go.
The chair is almost too comfortable. It's easy to slouch while in the chair or unintentionally melt into the backrest when you get tired.
It's important to keep your posture in check — be sure to keep your spine straight. This is important for not only this chair but any office chair.
If you're wondering whether the ride is pleasant, the answer is, well, "no." That is if the comparison is between the Sit2Go and a regular office chair that does nothing for your health.
As a reminder sitting all day in a regular office chair gets tiring, too. You will need to put in some physical work and sweat on the Sit2Go, but the health benefits are worth it.
Remember that in order to lose one pound of fat, you'll need to burn 3500 calories. Within a few hours of use, the Sit2Go tells me that I've burned 400 calories.
Say you work seven days straight and burn 500 extra daily calories on the Sit2Go. In one week, you've burned an extra pound of fat.
There is a caveat, though. If you were the first pick for neighborhood basketball games as a kid, take note. While those of shorter stature will be comfortable on the Sit2Go, taller individuals won't.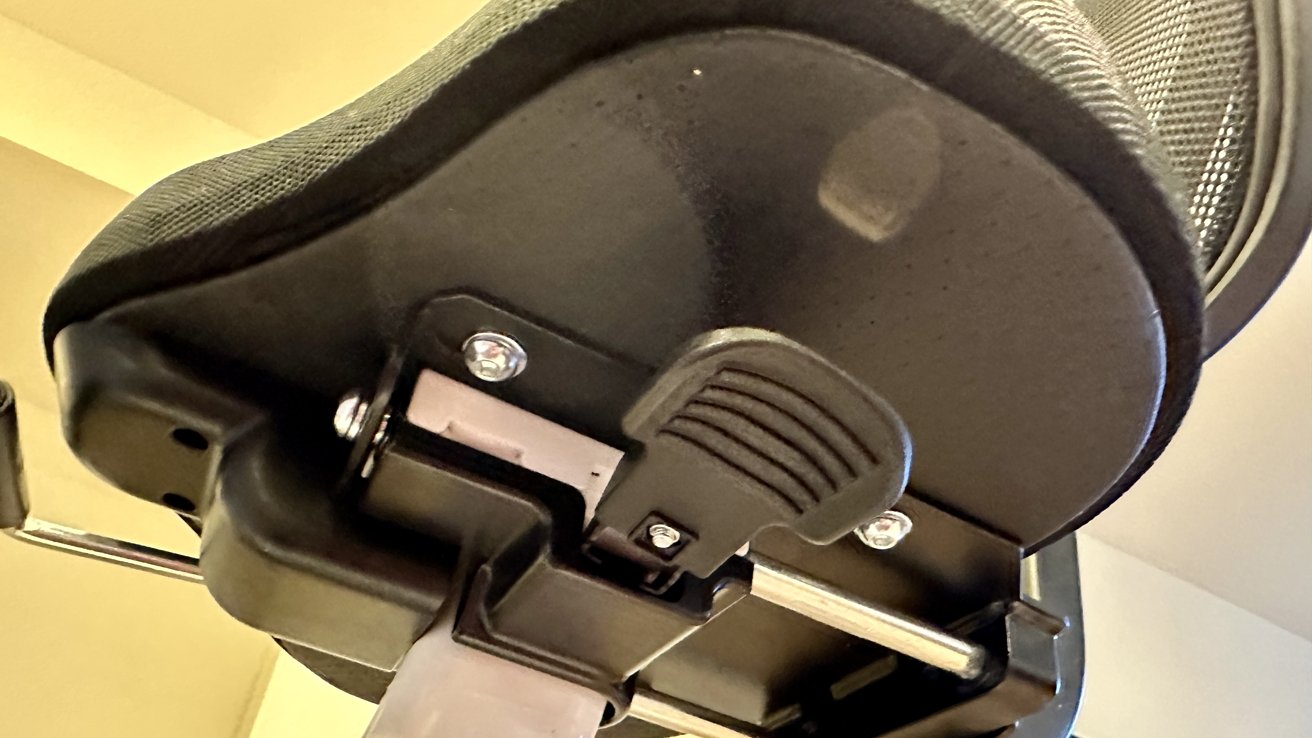 The Sit2Go has pneumatic technology. Adjust the height by lifting up on the lever situated just below the seat
We let someone over six feet tall try the chair. They were cramped while cycling, and no amount of seat adjusting remedied the issue.
This is where we'll deduct half a star from the rating — Sit2Go is not for giants.
As a certified spinning instructor, I worry for those who will buy the chair and compromise their knee, posture, and cartilage health due to consistent, improper pedaling.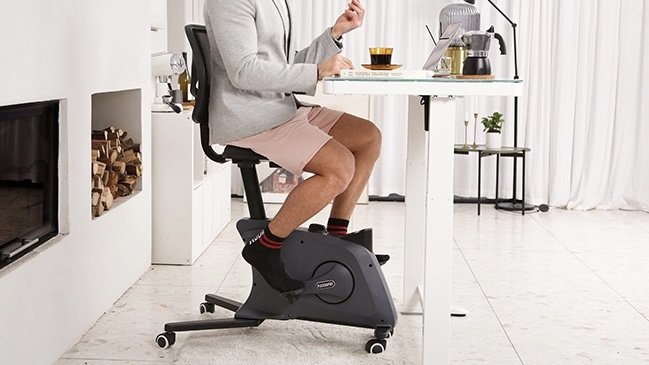 The Sit2Go is best suited for taller desks to allow knees to comfortably roam beneath. Sit2Go is not suggested for taller individuals.
When pedaling on any bike, knees must track in a straight line. Any wobbling to the side — either inwards or outwards — will result in grinding between the knee cap and cartilage, leading to severe discomfort and/or injury.
If you're under six feet, however, no problem, as the chair should work well for you.
A price tag of $469.99 for an office chair might seem a bit steep, considering that some stationary bikes can be bought for under 300.00. For that, we are deducting another half-star.
However, this item really is a 2-in-1, combining a comfortable chair with an exercise bike. All in all, the Sit2Go is a welcome addition to any office or lifestyle.
No matter what you do, keep chasing those 2023 fitness resolutions, and don't forget to move!
FlexiSpot's 2-in-1 Sit2Go- Pros
Torch calories while working

Comfortable backing

Wheels won't scratch floors

Available in black and white

Durable and stable while in use

Fair price for what you get

Time, speed, distance, calorie, RPM, and odometer tracking
FlexiSpot's 2-in-1 Sit2Go- Cons
Not suitable for those who are a little taller

Suitable for taller desks, only

Not so easy on the eyes
Rating: 4 out of 5
Where to buy
Source link