After a couple of years of neglecting tvOS, Apple not only gave keynote time for tvOS 17, but it also announced several new features coming to the Apple TV's latest operating system. Here's what you need to know about what's changing and being enhanced with the set-top box.
Revamped Control Center: The new Control Center focuses on making things easier. From there, you can see the system status, the current time, and the active profile. It also makes connecting your Bluetooth devices (such as AirPods) easier or checking your Home accessories.
Find My Remote: Another feature users have been asking for ages is the ability to find the Siri Remote using the iPhone. Although Apple didn't add the U1 chip to the accessory, it offers a tweaked Find My Siri Remote for 2nd generation or later controllers. As users get closer to the remote, an onscreen circle grows in size to guide their movement.
Fast Profile Switching: When using the remote on iPhone to wake up and control Apple TV, users will be automatically switched to their profile, ensuring they have access to their recently watched shows and personalized recommendations.
Customized Settings for Profiles: Additional settings and preferences are now saved for each user profile with tvOS 17, including their system language and paired AirPods.
FaceTime is now available on Apple TV: With FaceTime on Apple TV 4K, users can initiate calls directly from Apple TV, start them on iPhone or iPad, and hand them off to Apple TV. It uses Continuity Camera support to connect to the user's iPhone or iPad wirelessly and leverages the device's camera and microphone to bring participants together on the TV. It also works with Center Stage, so everyone keeps in the room framed on the screen.
Third-party video conferencing apps: Later this year, video conferencing apps like Webex by Cisco and Zoom will launch on tvOS, bringing their communications capabilities to Apple TV 4K. Developers can use Continuity Camera APIs on Apple TV 4K to integrate the iPhone or iPad camera and microphone into their tvOS app.
Apple Music Sing: This feature will also integrate Continuity Camera so users can see themselves onscreen and add entertaining filters while singing.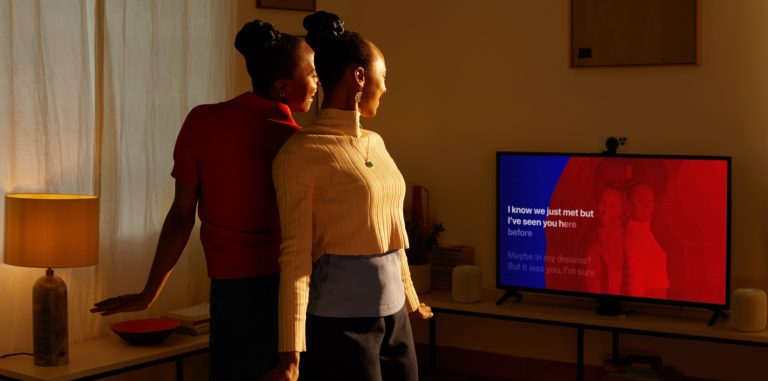 There are even more features coming with tvOS 17
Enhance Dialogue lets users more clearly hear what is being said over the effects, action, and music in a movie or TV show on Apple TV 4K paired with HomePod (2nd generation) by separating the dialogue from the background noise and bringing it forward to the center channel.
Dolby Vision 8.1 support offers Apple TV 4K users a more cinematic visual experience with dynamic metadata over a broader range of movies and TV shows.
Apple Fitness+ enhancements, including Custom Plans, a new way for Fitness+ users to receive a custom workout or meditation schedule based on day, duration, workout type, and more; Stacks, which allows users to select multiple workouts and meditations to seamlessly do back to back; and Audio Focus, which gives users the ability to prioritize the volume of the music or the trainers' voices.
Third-party VPN support enables developers to create VPN apps for Apple TV. This can benefit enterprise and education users wanting to access content on their private networks, allowing Apple TV to be a great office and conference room solution in even more places.
Source link