As Netflix cracks down on its password sharing policies worldwide, Malaysian users have begun receiving alerts from the platform outlining the policy.
"A Netflix account is for use by one household," Netflix shared in a May 24 update to local users.
"Everyone living in that household can use Netflix wherever they are—at home, on the go, on holiday—and take advantage of new features like Transfer Profile and Manage Access and Devices."
When using Netflix on a TV, Malaysian users will now be prompted to confirm whether the TV is part of their Netflix Household.
Breaking down the Netflix Household
According to an FAQ on Netflix's website, Netflix Household is a collection of the devices connected to the internet at the main place (primary WiFi) you watch Netflix on.
A Netflix Household must be set using a TV device. Meanwhile, all other devices that use your Netflix account on the same internet connection as that TV will automatically be added to that Netflix Household.
Users who don't have a TV or don't use it for their Netflix won't need to set up a Netflix Household. However, Netflix did not clarify whether this means it will automatically set one up for you.
It's believed that you'll have to be connected to the primary WiFi once every month (31 days) to ensure you're still a trusted device of the Netflix Household. 
Adding on to the plan
Standard subscribers (who pay RM45/month)  can have the option to add one extra member who doesn't live with you, while Premium subscribers (who pay RM55/month) can add up to two. It costs RM13/month per extra member.
This means Standard subscribers who want an extra member will be paying RM58/month. Premium subscribers can pay RM68/month for an extra member or RM81/month for two extra members.  
The existing profiles on your account won't change, and will continue to be accessible to those in the Netflix Household.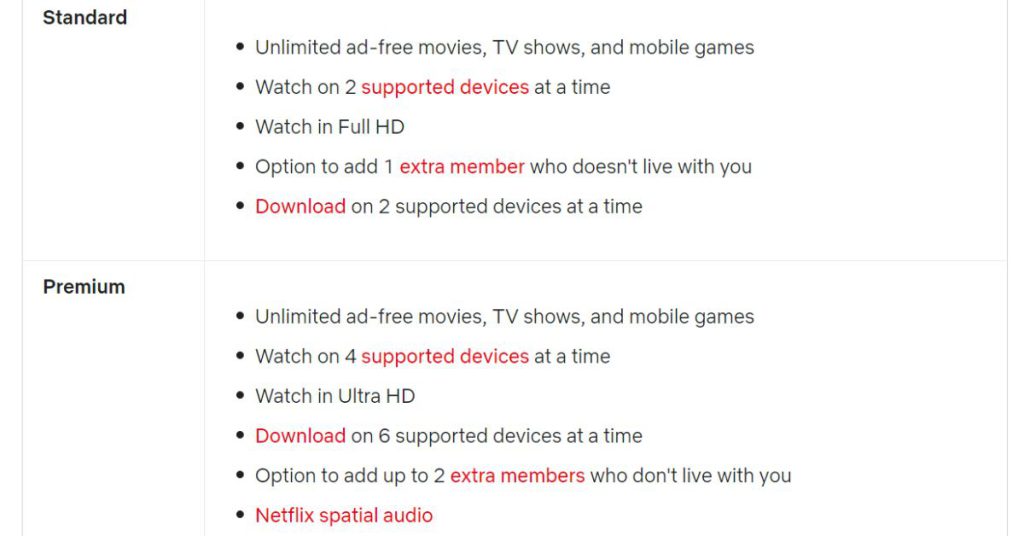 The extra member will be given their own account and password, but the RM13 fee will be paid by the main account holder who invited them to join.
This extra member will only get one profile. They can either retain their existing profile, or make a new one. They can enjoy Netflix's service on any device, but only on one device at a time.
They will also get the same video and audio quality as the subscriber who added them.
Extra members must be at least 18 years old, and their accounts must be activated in the same country associated with the account owner's.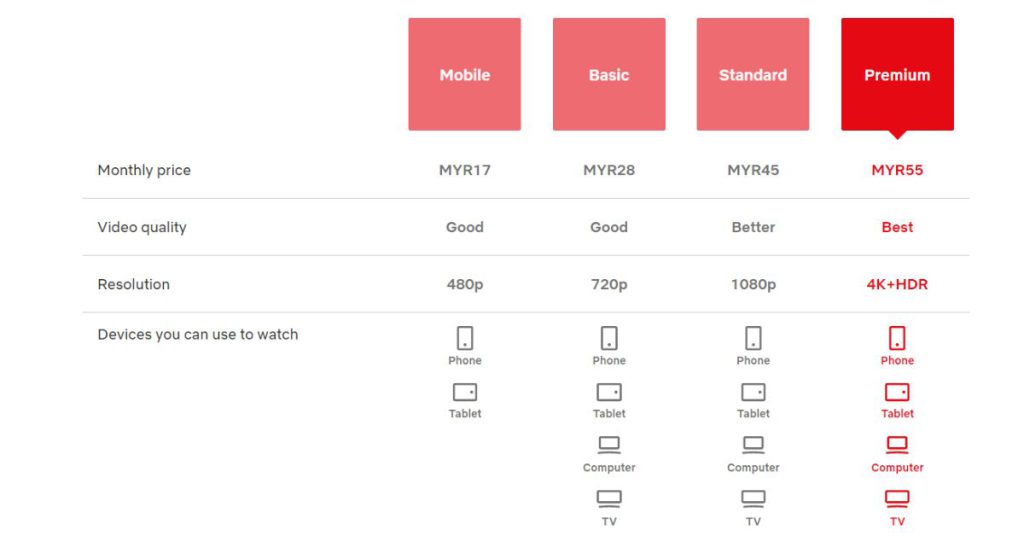 The RM13/month price is cheaper than buying a new account on the lower two tiers, which would be RM17/month for the Mobile plan (watch on mobile and tablet only), or RM28/month for the Basic plan.
Subscribers can now visit their Account page to buy an extra member slot. You can cancel the slot at any time, and the extra member can continue to use Netflix until the end of the billing period.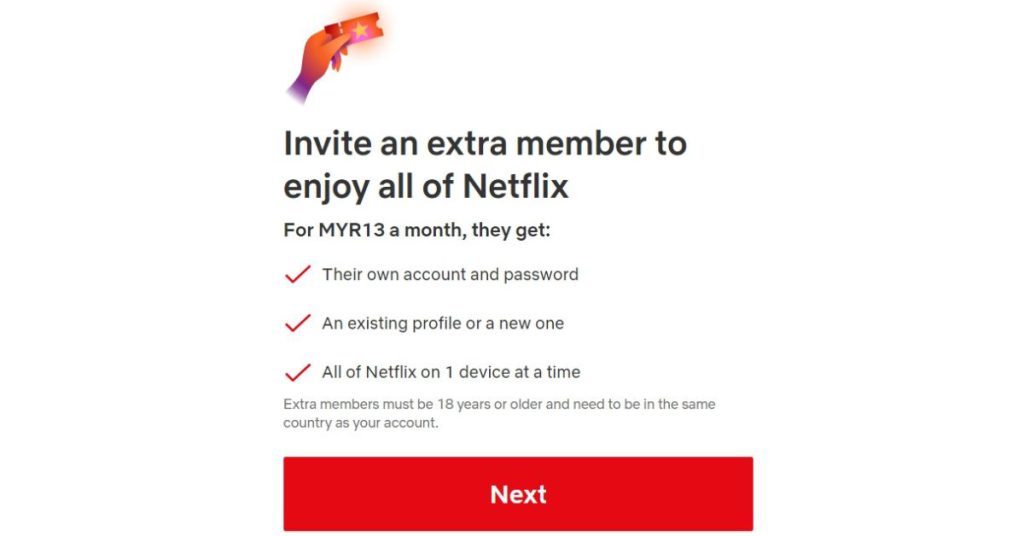 The end of Netflix's era?
With this new Netflix policy, Malaysians may now turn to various alternatives such as Prime Video or Disney+Hotstar, amongst other entertainment options. 
Will this crackdown see a drop in memberships for Netflix in Malaysia, or will users continue to stay loyal to the platform to consume its content?
Seeing that this comes at a time when Amazon's Prime Video has just announced that it will be investing in Malaysian content, including original local creations, could we be witnessing the end of Netflix's dominance as a streaming service here in Malaysia? 
Source link