Sony announced two additions to its portable Bluetooth speaker lineup today, including the Sony SRS-XV800, a towering, battery-powered model so big it needs wheels to move it around. The much smaller SRS-XB100—the most compact in Sony's lineup—can be carried by its detachable strap.
Sony SRS-XV800 party speaker details
The 28 x 12.4 x 14.7-inch (HxWxD) SRS-XV800 ($649.99) is designed to power parties with music and an LED light show. It can also be used for karaoke or small-scale sound reinforcement, thanks to dual 1/4-inch inputs for sources such as a microphone or a guitar. Independent volume controls on these inputs allow you to mix the inputs with other music playing through the speaker.
This news story is part of TechHive's in-depth coverage of the best Bluetooth speakers.
The tall speaker is outfitted with five tweeters (four of which are active at any one time, as I'll explain momentarily), dual oversized woofers, and a large bass reflex unit in the front of its enclosure. Two of the five tweeters are mounted in back to deliver omnidirectional sound.
In an interesting twist, laying the speaker on its side disables the right-hand tweeter at the top of the cabinet and activates the one at the bottom, so that it becomes the left-hand tweeter when the speaker is horizontal. This enables the speaker to deliver a true stereo sound stage in either orientation. A pair of XV800's can also be configured as a stereo pair, or you can wirelessly link up to 100 of them for an epic-sized party.
Sony
Using Sony's TV Sound Booster, you'll be able to supplement your TV's onboard sound by connecting the speaker to the TV's optical digital audio output, taking advantage of the SRS-XV800's much larger drivers and bouncing sound off the wall behind it.  
Large multi-color LED panels are located at the top, top front, and bottom front of the speaker. These lights will pulse in time with whatever music the speaker is playing, and their output can be customized using Sony's Music Center mobile app.
The speaker is also compatible with Sony's Fiestable app, which can be used for karaoke functions, voice changing, echo, and a DJ control feature that can add sound effects to your music. You can also control the speaker directly from a backlit touch-surface panel on its top.
Despite the XV800's large size—the speaker has two built-in handles and wheels on its bottom—Sony says its onboard battery should deliver up to 25 hours of listening time. If that isn't enough to see your rave through, a 10-minute charge will deliver up to 3 hours more. Sony says its Battery Care feature helps prevent overcharging and conditions the battery for longer life.
If you want to take the party poolside, the XV800 carries an IPX4 weatherization rating, which means it's protected from water sprayed from any direction (Sony doesn't publish a spec for protection from particulate matter ingress). You'll find everything you need to know about IP codes at the preceding link.
Sony SRS-XB100 Bluetooth speaker details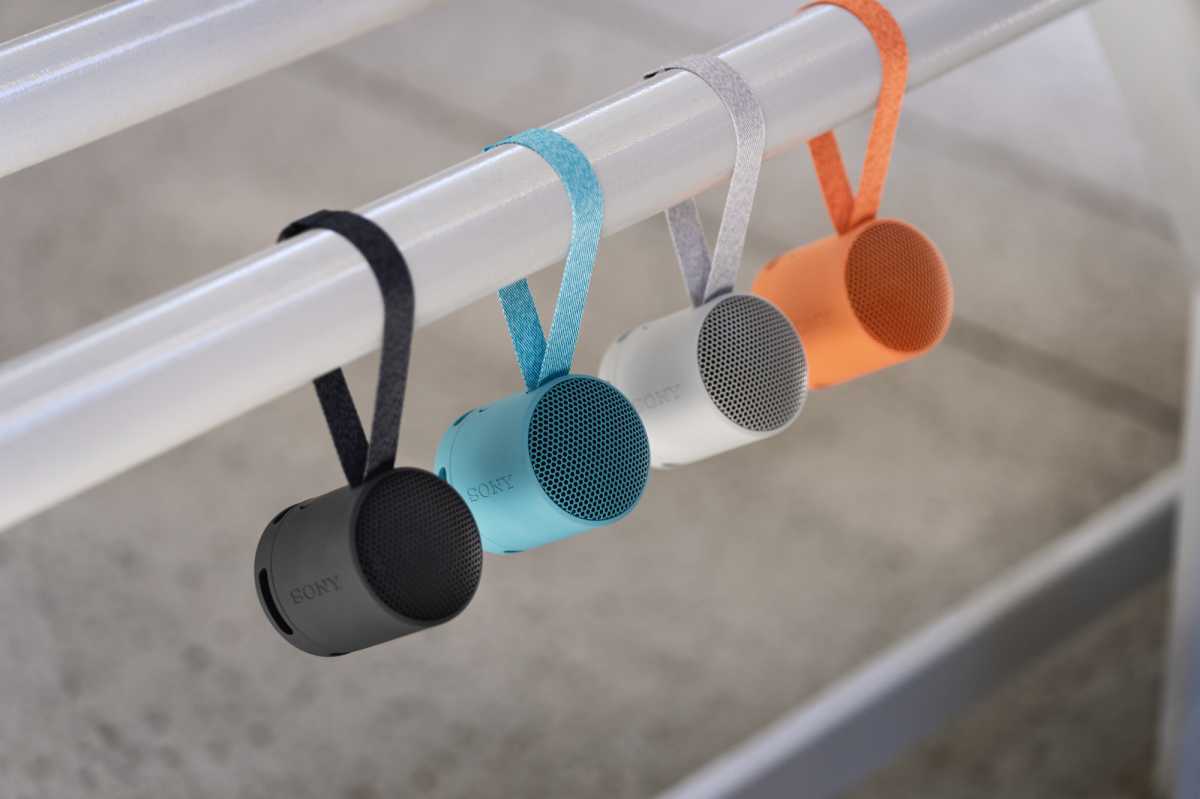 Sony
At the other end of the size scale, you'll find Sony's compact SRS-XB100 Bluetooth speaker ($59.99). This capsule-shaped speaker measures just 3.7 x 2.9 inches (HxW) and weighs 0.6 pounds (Sony did not disclose the weight of the XV800 party speaker). The smaller speaker uses Sony's Sound Diffusion Processor and a single passive radiator.
Two of these speakers can operate as a stereo pair. And when used for telephone calls, Sony tells us the XB100's echo-cancellation feature allows both parties on a call to speak at the same time without either getting cut off.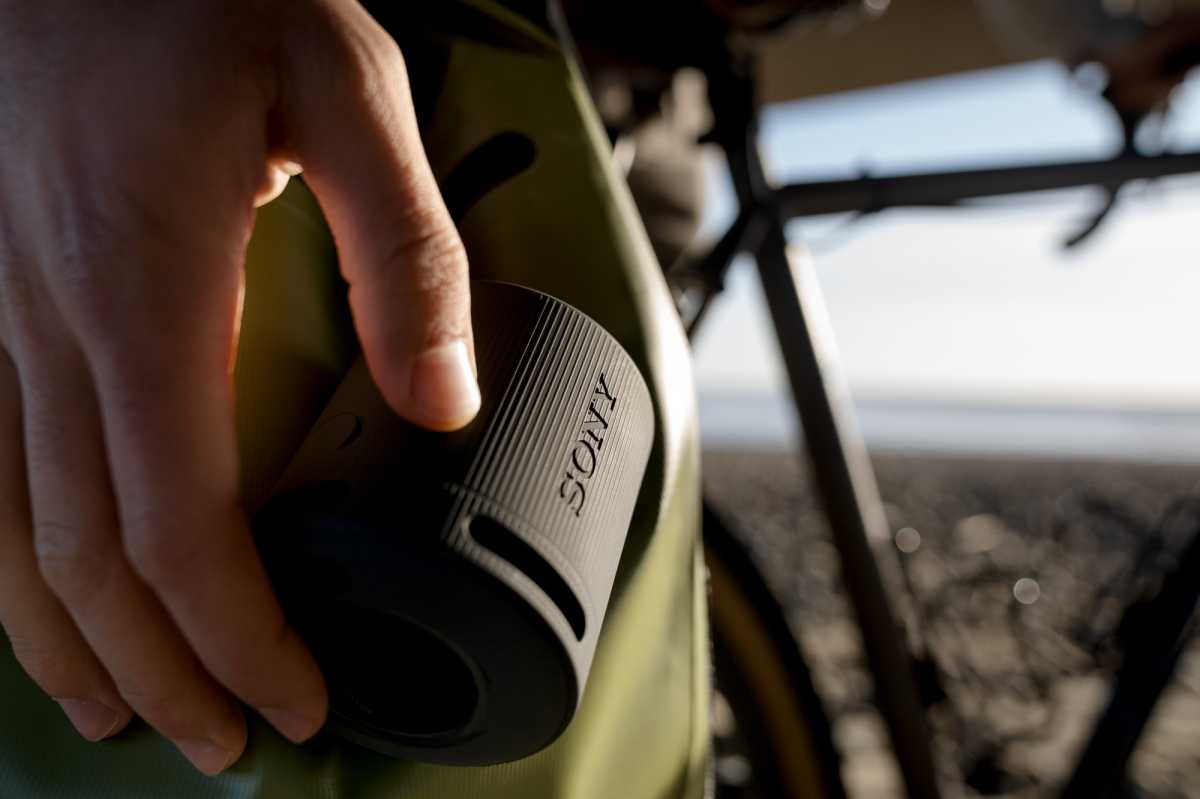 Sony
The XB100 offers strong protection from the elements, boasting an IP67 weatherization rating. That means it's entirely protected from dust ingress and that it can withstand being submerged in up to one meter of water for 30 minutes. Sony says the XB100 will deliver up to 16 hours of battery life.
Both the Sony SRS-XV800 and Sony SRS-XB100 are available for preorder now. The $650 party speaker will be available for purchase on May 15; you'll be able to pick up the $60 handheld model on May 22.
Source link