This is a sponsored article and all content and opinions expressed within are of the author.
At Mobile World Congress in Barcelona, Spain, TECNO, a leading international smartphone and AIoT brand, launched its first laptop series. The Chairman of Intel APAC met up with the CEO of TECNO IoT at the TECNO booth to introduce their newest Intel CPU and bring the TECNO MEGABOOK S1 to global customers. The TECNO MEGABOOK laptop series, the MEGABOOK S1 and the MEGABOOK T1, are focused on business professionals and young generations respectively. These laptops are meant to be affordable, powerful, and easy to carry and use.
TECNO has focused on a wide range of devices in the past, such as wearables, smart home products, tablets, and more. But the newest foray into laptops is an exciting new venture for the company. And it's an exciting opportunity for consumers as well. Here's more about the newest TECNO products.
The TECNO MEGABOOK S1 2023
The flagship offering of this series, the TECNO MEGABOOK S1 2023 is ideal for the business professional in need of a mobile workstation. It measures 15.6″ but is only 13.5mm thick. It only weighs 1.35kg, so it's a breeze to carry. You'll be able to take care of many tasks at once, thanks to the 13th Gen Intel® Core™ processor.
The laptop comes with 8GB/16GB of LPDDR5 RAM, which works hand-in-hand with the processor to deliver smooth performance. It also offers 512GB/1TB of SSD storage. Plus, this uses the Ice Storm System with VC Cooling models, so your CPU performance remains top-notch, which is released to 35W.
The MEGA screen is an ultra-boundless 16:10 screen with 90% screen-to-body ratio, meaning you'll love looking at it. The 3.2K high-resolution display offers an experience that any user will like. It boasts a 120Hz refresh rate as well.
Equipped with a TECNO VOCPLUS sound system, this has four full-frequency speakers and two tweeters plus DTS:X Ultra cinema sound effect. Anybody in the room will be able to experience serious sound and this makes this laptop great for streaming purposes. The TECNO MEGABOOK S1 2023 has a 70Wh battery that lasts for up to 12 hours of continuous usage and a 65W GaN charger for quick charging.
You'll also be able to use hand gestures through SwiftTransfer to transfer files between the laptop and other TECNO devices utilizing the OneLeap system. Plus, there are seven ports for you to use.
The TECNO MEGABOOK T1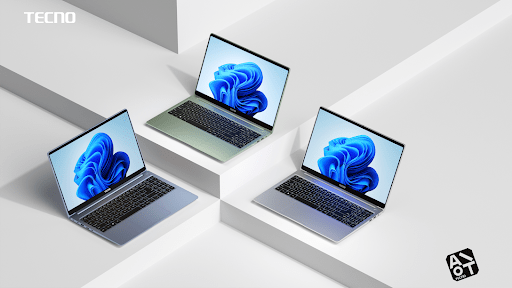 If you're not looking for a portable workstation for your business use, but rather a laptop for content creation the TECNO MEGABOOK T1 is a solid option. This also has a sleek design, as it's only 14.8mm thick and weighs 1.48kg. The premium aluminum metal casing is sharp to look at.
This offers 12GB/16GB of RAM and 512GB/1TB of SSD storage, giving you plenty of memory to use to create videos and graphics. This has a 10nm Intel® Core™ processor for fast processing. The backlit keyboard helps you create at any time of day.
For safety features, it has a 2MP physical privacy camera. So not only are you able to record yourself with ease, it has built-in safety features to protect you. This also has a fingerprint power button, so you can set it where only you can use it.
The TECNO MEGABOOK T1 has a 70Wh battery that lasts for up to 17.5 hours and it boasts a 65GaN charger. Your eyes will love it too, as it is TÜV Lande Eye Comfort Certified. The 15.6″ screen has 350 nits of high brightness, 100% high gamut RGB, and DC adaptive dimming.
This features dual mics, DTS immersive sound, and TECNO Audio Lab. Plus, you can transfer files at 1800Mbps with Wi-Fi 6 capabilities. Get the most out of the nine ports that are offered as well. You can also choose between seven different colors: Space Grey, Rome Mint, Monet Violet, Galaxy Silver, Moonshine Silver, Denim Blue, and Champagne Gold.
The exciting TECNO MEGABOOK series will be made available in May in Southeastern Europe. The S1 will start from $1,399 and the T1 from $699.