Transportation has become a significant aspect of modern life. From sending goods to commuting, major activities depend on transportation. With the advancement of technology, the transport industry has become a key player, increasing the world economy. 
Among all the services in transportation, the taxi service is one of the booming services. We can see the development in the car transportation business everywhere. The importance of taxi services extends beyond 100 on the scale. That much important is transporting business.
If you are starting a transport business, this is the right time to start your transportation business. With a wide variety of niches and opportunities available, there has never been a better time to get involved in the transport industry.
In this article, we will explore the world of transport business, from the different types of transport businesses available to the key factors that can make or break a successful venture.
Whether you start a transport business or not, this blog provides you with information to start a transport business. So buckle up and let's hit the road to explore the transport business world.
What Is A Transport Business? 
The transport business is a business model that transports goods or passengers from one place to another. It includes raid-sharing, exporting and importing consumer goods, and shipping of suppliers and products. Transportation service is between individual passengers, other companies or world trade partners. 
The transportation businesses are local transport, personal transport, and global transport. 
The Market View Of Transport Business
As of 2022, the U.S. transportation business is worth $1.36 trillion. 
The total number of workers in the transportation industry is 10.68 million in the last year,2022. 
The total market size of the transport business is $6.3 trillion in 2023.
A source says that global transportation is expected to grow by 38.5% by 2027. 
This year, the taxi service has generated total revenue of US $332.50 billion, which is expected to reach US 378.80 billion by 2027.
Innovative Transport Business Trends to Keep Your Eye On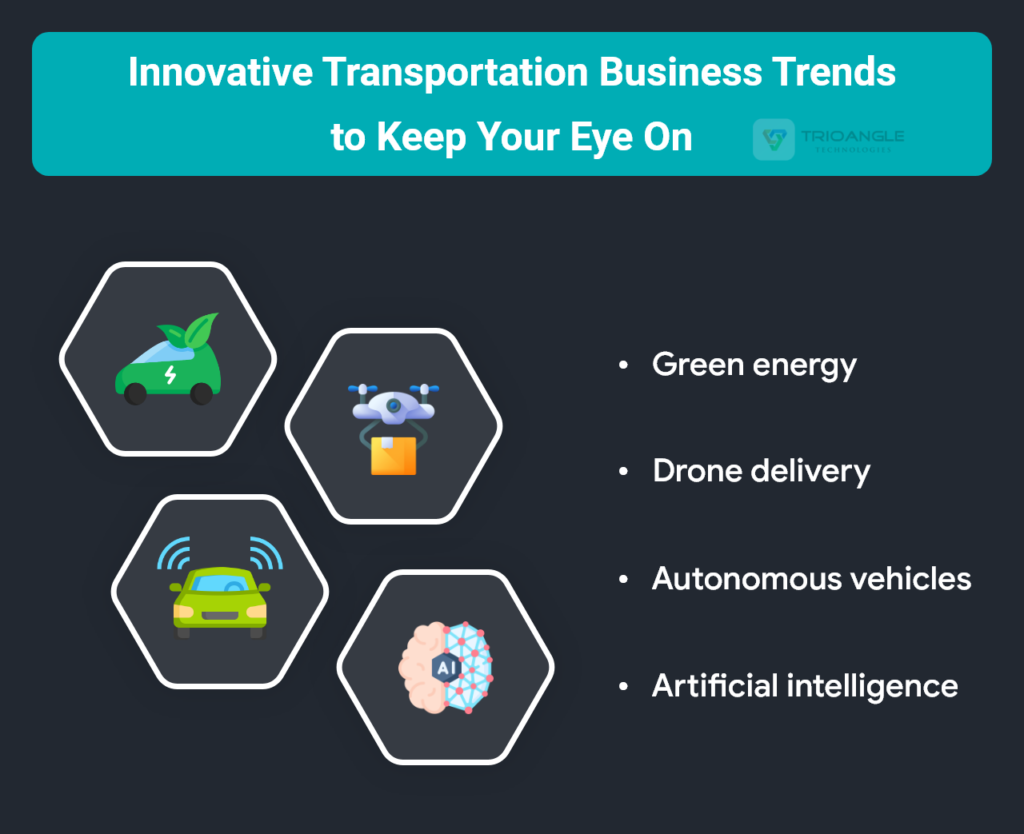 Green Energy
In the current day, the Transport business depends on renewable energy systems. Green energy in the transport industry is brought to reduce the negative impact on the world.
Since global warming is heading toward disasters, experts have introduced green energy vehicles. Replacing fuels with hydrogen, liquefied gas, and electricity, transport businesses are adopting green energy.   
Green energy is booming in taxi services because of its less cost to function, environmental benefits, and the best experience for riders. And you can find taxi service businesses starting green energy systems in most places.  
Drone Delivery
The scope of this last-mile delivery service, drone, is to ship parcels between retailers and transportation. Amazon is the first delivery company to start drone delivery. At the end of 2016, it delivered its first order using the drone. 
After the success of Amazon's new idea, many companies started including drone delivery to increase the cost-effectiveness of their business and also customer experience.
The reasons for its popularity are many. Drone delivery offers several advantages over traditional delivery methods, including faster delivery times, reduced transportation costs, and increased accessibility to hard-to-reach areas. Drones can be programmed to fly directly to a specific destination, bypassing traffic and other obstacles. 
Autonomous Vehicles
Autonomous vehicles are types of vehicles that operate without human involvement. These vehicles are only able to run with a tool, Artificial Intelligence. This trend is booming currently because of the advancement, including sensors, cameras, navigation software, and traffic without human intervention.
Taxi services are the first industry to adopt this trend. It has the potential to decrease accidents, which are caused by human error,  and provides efficiency and 24/7 service. Besides that, autonomous vehicles can optimize routes to minimize travel time and reduce congestion on the roads. 
Since this trend is going to grow in the future, many companies like Uber and Lyft are already adopting this trend. One of the important trends to look at in the transport business. 
Artificial Intelligence
The usage of artificial intelligence and machine learning is one trend that is likely to have a big impact. AI algorithms are programmed to perform a variety of work like humankind. Since it can perform anything according to its programme, this technology has been brought to the transport industry. 
AI in the transport industry helps in autonomous vehicles, predictive maintenance, traffic management, and logistics and supply chain management.  
Overall, AI has the potential to greatly improve the efficiency, safety, and sustainability of the transport industry, making transportation more accessible and convenient for everyone. 
Key Steps Before Starting A Transport Business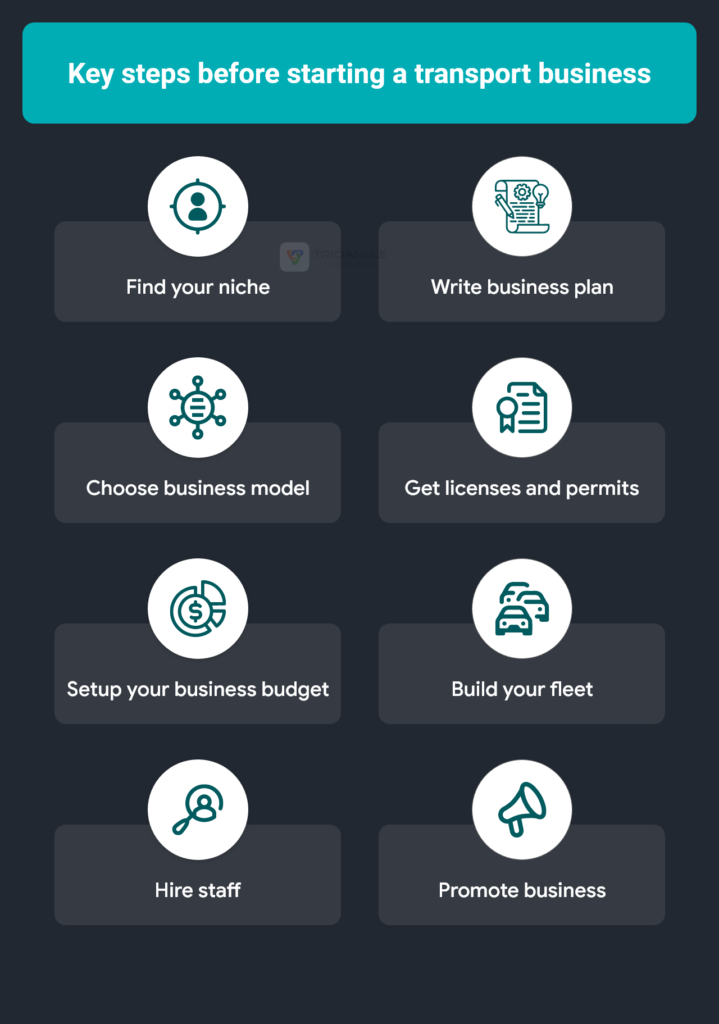 We are at the important part of the blog. You don't need market or industry knowledge to understand the process. So read the steps!
Find Your Niche
The first thing in the process is finding your niche. In the transport business, you get wide options, including taxi service, limousine rentals, car rentals, bike rentals, trucking, moving van rental or moving company, or medical transportation. 
Besides that, there are many transportation options to look at such as scooter rentals and school bus transportation. At first, you can choose one transport and later, increase your business by operating a variety of vehicles. 
If you don't have an idea in your mind, don't worry. Start analyzing your location and whether it has a lot of hospitals or is a tourist destination. If your region has hospitals, you can start a medical transport business, or if it is a tourist area, you can start a taxi service business.
In this step, you need to be creative because everyone can start a transport business but how your business stands unique is the important thing. So wisely choose your niche. 
Write Business Plan
In this step, you undergo a lot of hard work but in the end, the hard work will pay you off greatly. You analyze the entire market and competitors that are similar to your business. And you map out the coming steps so that you can streamline the process gradually. 
This step determines your transportation business's success. When you write a business plan, make sure you add those plans mentioned below. 
An Overview of the Business
Market analysis
Pricing Plan
Marketing Plan
Financial plan
The key to remember in this step is understanding the market. When you start to research, make sure that there is a high demand for your business. You can go further in your business only if it has a demand. 
To get this process done faster,  study your competitors and market. 
Choose Transport Business Model
Once you find your niche and write a business plan, the next step is building a business model. Before starting your business, a clear idea of the business model is a must. 
Sole Proprietorship
A sole proprietorship is a type of business structure where a single person owns and operates a business. This means that the business is not incorporated and the owner is personally liable for all aspects of the business, including its debt and legal liabilities.  
General or limited liability partnership
Limited liability partnership is a business model where business owners connect with partners to function their business. You can avoid the risk of debt and other issues in this model. 
Limited Liability Company (LLC) 
A limited liability company is a type of business entity that joins the benefits of a partnership and a corporation. It offers limited liability protection to its owners, known as members, which protects the assets in the event of the company's legal. 
Get Licenses And Permits 
An important thing to have before starting a business is a license. For authentication that you own the business, you need to get a legal license from your local government. 
The norms differ from one region to another. You follow the norms and rules as your local government described. 
If you have a lawyer to make all the rules and regulations done effortlessly, it would be much better. 
Setup Your Transport Business Budget
Budget is essential for your business because if you can't choose the correct budget, it takes time to reach your business target. 
It is not possible to buy one vehicle on the budget because the cost may be equal to a logistic fleet. If you buy vehicles on loan, the entire value to start a transport business will come under your budget. 
Before building your fleet, consider factors like
Allocating funds for supplies and resources
Allocating funds for sales and marketing
Identifying and itemizing debt and other expenses
Determining the required revenue to offset operating expenses on average.
Build Your Fleet
After choosing your vehicle for your transport business, you start building your fleet business. You choose vehicles on your budget. The first impression is the best so keep it with, choose your vehicles that are convenient for customers and reliable. 
When you are looking at the vehicle, ask yourself questions like
Is this opt for taxi service?
Can it hold heavy weight? 
What eco-friendly options might be available?
Possibility of wear and tear
Hire Staff
To operate your transport business, you need experienced and skilled employees. Once you select your employees, you need to train them. And make sure that your employees have a license. 
You don't have to rush in this process. If your business lacks employees and vehicles are stationary, then hire employees. At first, hire a few employees and increase it gradually. 
When you hire employees, you need to give a salary and deal with payroll taxes, so take decisions wisely. 
Promote Business
The final step to watch out for is promotion. Since we are living in the digital era, you need an online platform to promote your business.  You can promote your business on social media platforms like Instagram, Twitter, Facebook, and more. 
By doing so, you can give complete information about your business. You need a strong online presence in terms of promotion and growth. 
Not that you can promote with online platforms, you can follow old methods like pamphlets, advertisements, and more. 
How Much Does It Cost To Start A Transport Business In 2023?         
Many factors determine the cost to develop a transport business. The below-mentioned can vary based on the type and scale of the business. 
The cost of starting a transport business will depend on the type of transport business you want to start. For instance, starting a taxi service will require a smaller initial investment compared to starting a trucking company.
The number of vehicles you plan to function in will also impact the cost. Each vehicle will require an initial investment, ongoing maintenance costs, insurance, and fuel expenses. 
You will need to obtain various licenses and permits to legally operate a transport business. The cost of obtaining these permits and licenses can vary by location and type of business. 
Transport businesses require insurance coverage for their vehicles, drivers, and passengers. The cost of insurance will depend on the type of business, number of vehicles, and coverage limits. 
Depending on the scale of your business, you may need to invest in infrastructure such as a parking lot, garage, or office space. 
Bottom Line
Starting a business is simple when you have a clear idea. A quote by Richard Branson, "A big business starts small". It tells precisely what you want. 
Instead of waiting for a big budget and team to start the business, start with a minimal budget and team. If you go with this frame of mind, you can see the beam.  
I hope that the article is helpful for you and makes you brainstorm more about the transport industry. If you want to know more about it, read blogs related to how to start a transport business. 
Source link